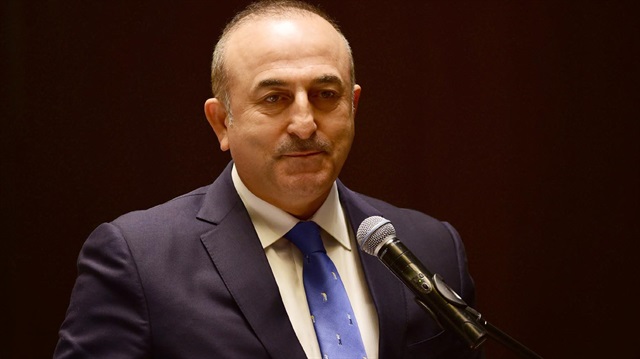 Turkey had provided strong evidence to the U.S. authority against Fetullah Terrorist Organization (FETÖ) leader Fetullah Gülen and Washington should arrest him immediately, Turkish Foreign Minister Mevlüt Çavuşoğlu said in Qatar's capital Doha.
Speaking at a Turkish school in Qatar during an official visit, Çavuşoğlu said that there was a riddle on Gülen's extradition from the U.S., where he has been living for more than 16 years under self-imposed exile.
Gülen, the CIA-supported leader of the FETÖ terrorist group, had masterminded a deadly coup attempt in Turkey in July this year.
Gülen's FETÖ terror group's members inside the Turkish military have staged the failed coup on the night of July 15, killing over 240 people and injuring more than 2,200 others who stood for democracy and protested the coup plotters.
Çavuşoğlu said that the U.S. administration was saying one thing with Turkish officials and doing another in real.
"Americans tell us 'we are in cooperation with you, the judiciary will decide [on Gülen's extradition]. Ok, the court will rule, but we have provided them a very strong dossier, he [Gülen] should be arrested," Çavuşoğlu said.
He said the U.S. authority arrested Turkish-Iranian businessmen Reza Zarrab only depending on a prosecutors' accusation, but the same authority did not arrest Gülen despite a strong variety of evidence against him.
"But Americans clearly know that relations between Ankara and Washington will severely be affected if they don't give him to us," the Turkish minister highlighted.
He stated that Turkey will continue to work on Gülen's extradition with the new government after the Nov. 8 Presidential election regardless who come to the office.
"The important thing is the harmony between the White House and Pentagon," Çavuşoğlu added.

'Turkey will not allow a new Qandil in Sinjar'
The Turkish FM also touched upon the outlawed Kurdistan Worker's Party (PKK) settlement in the northern Iraqi city of Sinjar.
"Turkey will not allow a new Qandil [PKK headquarters in northern Iraq] there [Sinjar]," he said.
He stated that Turkey was taking some precaution. "We will take action if needed."
Ankara would not allow the PKK and Shiite militia Hashdi Shaabi group to advance towards the Turkmen populated city of Tal Afar north of Mosul, the minister said.
Turkey's sensitivity about Tal Afar has been told to the U.S., Iraq and Kurdistan administration in northern Iraq, he said.
He also said that the issue of Turkish military presence in Bashiqa camp northeast of Mosul has made unnecessary tension between Ankara and Baghdad.
"The main goal of Bashiqa Camp in Iraq was to train troops, but the issue has created unnecessary tension," he added.
He noted that the undersecretary of Turkish foreign ministry had visited Baghdad last week and now a delegation from Baghdad is expected to visit Turkey for further talks.
"Turkey will support the constructive role of all countries in the issue," Çavuşoğlu said, as he noted Iraq is Turkey's neighbor and Turkey wants friendly relations with all of its neighbors.
He reiterated that Turkish military will clear the northern Syrian city of Manbij from YPG if the terror group leaves the city within a short period.