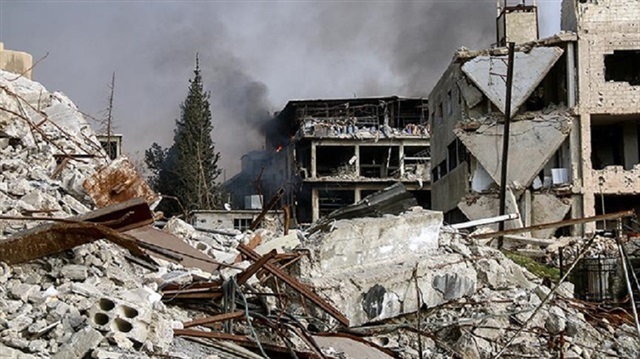 Airstrikes on Syria's Deir ez-Zor, located near the Iraqi border, killed 79 civilians in the past 48 hours, according to reports.
Aahid Sileybi, an activist from the area, said ''Warplanes belonging to Russia and the Assad regime have bombed the regions where civilians live in Deir ez-Zor."
Sileybi stated that during the attacks carried out in the last 48 hours, six civilians were killed in the Sukeri village east of Deir ez-Zor; 50 civilians in the Ashara and Hajin townships; 13 in the Koriyya and Shenen municipalities; 10 civilians in Hajin and Abas, and dozens of civilians were wounded.
Noting that the regime and Russian warplanes targeted civilians trying to escape from the conflict in Deir ez-Zor, Sileybi said, "Russian planes targeted the convoy of civilians trying to cross the Euphrates River near Deir ez-Zor. We do not know how many civilians were killed and wounded."
In a recent report, the U.K.-based Syrian Network for Human Rights (SNHR) said at least 912 civilians -- including 200 children and 144 women -- had been killed countrywide last month alone.
In a related development Friday, Hajji Yousef, a member of Syria's White Helmets civil-defense force, said at least eight civilians had been killed by regime airstrikes in the Khan Sheikhun district of Idlib province.
Regime warplanes struck civilian areas with vacuum bombs, Yousef told Anadolu Agency, adding that emergency workers had pulled at least eight people out from under the rubble of flattened buildings.
According to Yousef, warplanes also attacked Idlib's southern village of Al-Hilba, killing at least one civilian.
Home to 2.5 million people, the northwestern Idlib province is covered by one of four de-escalation zones -- in which acts of aggression are expressly prohibited -- recently set up across war-torn Syria.
Idlib city is located only 62 kilometers south of Reyhanli, a populous district of Turkey's southern Hatay province.