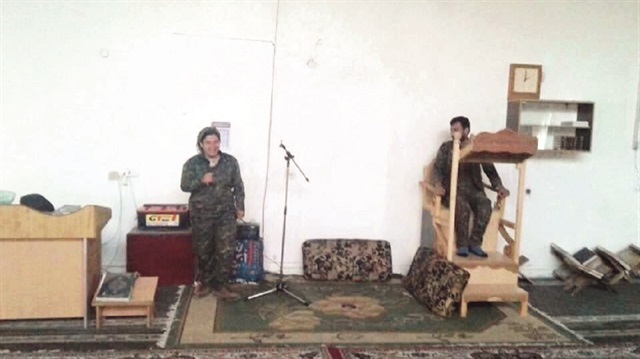 The Kurdistan Workers' Party (PKK) terror organization's Syria affiliate, the PYD, has forcibly closed down 64 mosques to worshippers in Syria's Afrin, as they harass mosque goers by claiming they support Daesh and al-Qaeda.
Twenty-four mosques were shut down by PYD terrorists in central Afrin, which has been under their occupation since 2012, and 40 others were forcibly closed in its countryside.
PYD terrorists have also banned children's summer Quran courses in areas under their occupation.
They harass worshippers
Afrin resident Mahdi Rasheed, who spoke to Yeni Şafak, reported that PYD's so-called police force treat mosque goers as Daesh and al-Qaeda supporters, adding that "the PKK terror organization is monitoring and arresting those who attend mosques regularly for questioning."
He also added: "They mock the people's mosques, their prayers and sacred beliefs. They're attempting to spread their anti-Islam socialist ideas under the guise of 'public awareness.'"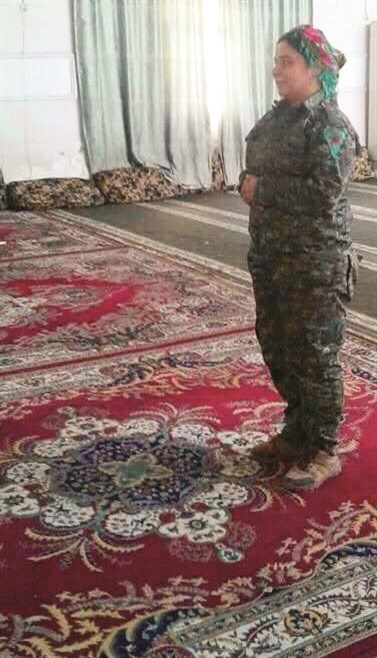 PKK terrorists interfere in Friday sermons
Afrin resident Abu Ahmed, who's been the region's Imam for 18 years, says that "the PKK terror organization is pushing its agenda by interfering in Friday sermons and pressuring us to spread their propaganda.
"There were times when they even forced imams to read out anti Turkey sentiments and journals against the Syrian opposition during the sermons. Over the past year, the pressure that imams have been put under have reached unbearable levels, and in the past eight months alone, four mosque imams went missing. We think it was the terrorist organization's doings," concluded Abu Ahmed.
Kurdish is mandatory, Arabic is forbidden
Last July, the PYD terror organization's so-called council issued a resolution that made Kurdish the language of education. The people of the region, who now study Arabic for only two hours a week in PKK schools, believe these measures are "a trap to estrange the population from the Quran and Islam."
Schoolbooks in Afrin, 65 percent of the population being Arabs, include terrorist ringleader Abdullah Öcalan's speeches and promote Communist ideology.
The PKK is listed as a terrorist organization by Turkey, the European Union and the United States.
The PKK has been conducting armed violence in the southeastern part of Turkey since 1984. More than 40,000 people, mostly civilians, have been killed in the three-decade long conflict.