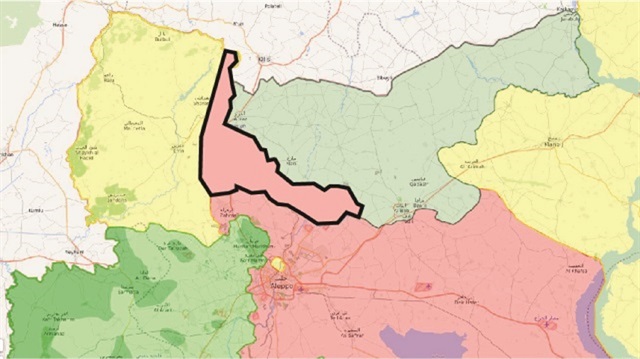 Tell Rifaat, the "key" to Afrin, one of the main bases of the Kurdistan Workers' Party (PKK) terrorist organization, where Turkey prepares to launch an operation, was handed over to the Syrian regime by the PKK with the efforts of Russia. Russian Military Police forces, comprised mostly of Chechens, were deployed to the border of Tell Rifaat facing the opposition-held Euphrates Shield region. Russia then declared Tell Rifaat as a "de-escalation zone."
MOSCOW'S BUFFER ZONE
Tell Rifaat is a large district in the north of Syria, its population being comprised mostly of Arabs. The PKK forced thousands of people to migrate from the district occupied by the terrorist organization. Turkey's possible Afrin operation was expected to advance to the center of Afrin, starting from Tell Rifaat.
The PKK, realizing that Turkish troops would enter Afrin, reportedly decided to leave this region to the regime, being encouraged by Russia. With the aim of preventing the Afrin Operation, the PKK might leave some of the Arab and Turkmen villages in Afrin's vicinity to the regime, according to the Syrian opposition. This situation serves the Syrian regime and Russia, as they desire to advance in the region with the help of the regime. Russian forces will allegedly be deployed in the region from Deir Jamal to Mount Burseya in Azaz and establish a buffer zone between the regime, PKK and the opposition.
SHABIHAS MIGHT JOIN REGIME FORCES
A major part of the PKK terrorists in Tell Rifaat withdrew to Afrin, after leaving the district. The remaining PKK terrorists are expected to gradually abandon Tell Rifaat. However, the army of the Syrian regime lacks personnel, as most of its last 70,000 troops in Syria joined the operations at the Iraq border and Deir ez-Zor. It is feared that the pro-regime Shabihas are among the regime forces to come from Nubl, Al-Zahraa and Aleppo to Tell Rifaat, as well as the foreign sectarian militants.
IDLIB TO BE AFFECTED
After the Turkey-backed Free Syrian Army (FSA) took control of Tell Rifaat within the Afrin Operation, the opposition would unite in Darat Izza and advance to Afrin, and the PKK terrorists would, to a large extent, be destroyed. The occupation of the strategic Tell Rifaat meant ensuring a land route connection between the opposition in Idlib and the Euphrates Shield region. It is reported that "cutting the Idlib-Euphrates Shield connection" upon Russia's insistence is one of the purposes of delivering Tell Rifaat to the regime.
The PKK is listed as a terrorist organization by Turkey, the European Union and the United States.
The PKK has been conducting armed violence in the southeastern part of Turkey since 1984. More than 40,000 people, mostly civilians, have been killed in the three-decade long conflict