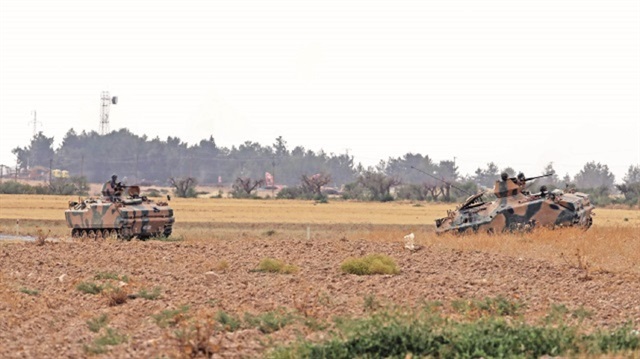 Turkish soldiers will provide security in Idlib, which has become the only source of shelter for the Syrian opposition. Turkish troops will be in charge of security in Idlib and its surroundings, which has population of more than 2 million along with those who arrived from Daraa, Hama, Damascus, Homs and Aleppo. Turkey's latest move in Idlib also means the collapse of PKK/PYD's project to expand to the Mediterranean.
Turkey's settlement and border crossing-shipment plan is also ready in Idlib, which is now the focal point of many countries. Turkish Armed Forces' (TAF) units, which will cross over into Syria from three separate points, will provide control of the area which will reach up to 85 km in length and 35 km in depth. The corridor will start from Daret Izze- Qalaat Samaan in the East, and reach the Ubin - Khirbet el-Joz region in the West. The 35 km depth, that will reach Sahl el Ghab in the South starting from the Hatay borderline, will also be under the control of the Turkish Armed Forces. The Free Syrian Army (FSA) units will also take charge in Idlib's security design under the leadership of TSK. Within this scope, between 1,500 and 2 thousand FSA soldiers were commanded to be 'at the ready'.
THEIR PLANS GO DOWN THE DRAIN
Kurdistan Workers' Party (PKK)-affiliated Democratic Union Party's (PYD) positions will be blockaded, and the organization's attack on opposition areas will be prevented in the new process. Moreover, as is the case with the Kobani (Ayn el Arab)-Afrin terror corridor, which was blockaded by the Euphrates Shield Operation, PKK's Afrin-Mediterranean terror corridor plan, pledged by Iran and the Assad regime, will be defeated. A Russian military presence to be positioned in Idlib with Turkish Armed Forces will remain at a symbolic level. If the project, which is finalized in Astana, should be approved at the beginning of July the implementation phase will also be initiated within July.
They would burn Idlib too
Evaluating the development announced the previous day by Turkey's presidential spokesperson İbrahim Kalın, Syrian Interim Government's Deputy Prime Minister Vecih Cuma stated that the presence of Turkish army in Idlib would be a safety assurance for 2 million Syrians. Saying that, the region was still the target of Assad regime's jets, "The Turkish army's entry [to Idlib] denotes great hope for the region. Our people are exhausted, and want to live without bombing and massacres. In the event that no solution is found as Turkey being the guarantor, they would also burn Idlib, as they did Aleppo, Homs and Hama," Cuma said. Noting that a full-scale operation plan to Idlib is discussed under cover of 'Al Qaeda', Cuma said all opposition members who did not want to compromise with Assad took shelter in Idlib, and they had no other pleace to go in case of any possible attack.