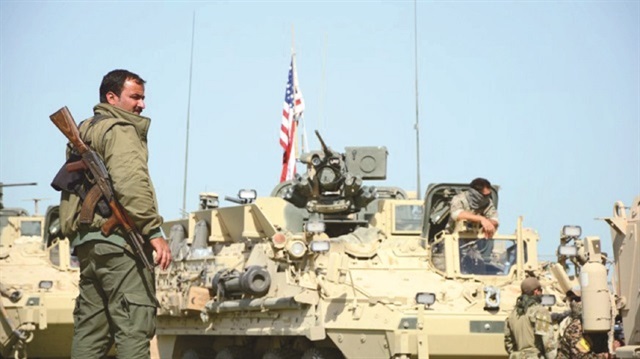 The U.S. while releasing statements that it is against the non-binding independence referendum the Kurdistan Regional Government (KRG) plans to hold on Sept. 25, has deployed 1,700 troops to occupy Kirkuk, Iraq. The specially trained soldiers deployed in Erbil will work against the prevention of the referendum in Kirkuk. There are still 14,000 Peshmerga troops working for KRG President Masoud Barzani and former Iraqi President Jalal Talabani in Iraq's oil center, Kirkuk. The United States' occupation of Kirkuk is interpreted as preparing the region for an independent state which will be declared after the referendum.
US READY TO DEPLOY 3,000 TROOPS
The United States is to dispatch a force of 3,000 troops in the region in a couple of days, according to local sources. Hazim Devlet, Kirkuk representative of Iraqi Turkmen Front, evaluates the Sept. 25 referendum as only one stage of the process. He noted that after the referendum the independence file will be used as a means of blackmail, and that until Barzani concedes the U.S. and Israel will fulfill his every demand.
U.S. Special Forces members deployed in six residential areas, particularly Kirkuk, will be provided with sophisticated weapons and armored vehicles. For the occupation of Kirkuk, the U.S. has sent a total of 13 containers of arms and ammunition to the region.
FSA rejects US offer
The U.S requested that the Free Syrian Army (FSA) fight alongside the Kurdistan Workers' Party (PKK) terrorist organization in the Deir el-Zor operation. The FSA groups rejected this request.
FSA-affiliated Maghawir al-Sawra group's spokesperson Muhammad Jarrah stated that the PKK and Daesh were the two poles boosted that kept the Assad regime, which crippled the Syrian revolution, standing.
Additionally, Jaysh Usud al-Sharqiya spokesperson Saed el-Hajj said that the PKK and the regime were from the same group. "Forcing the FSA to cooperate with the PKK aims to break the opposition's fronts."
The PKK is listed as a terrorist organization by Turkey, the European Union and the United States.The PKK has been conducting armed violence in the southeastern part of Turkey since 1984. More than 40,000 people, mostly civilians, have been killed in the three-decade long conflict.