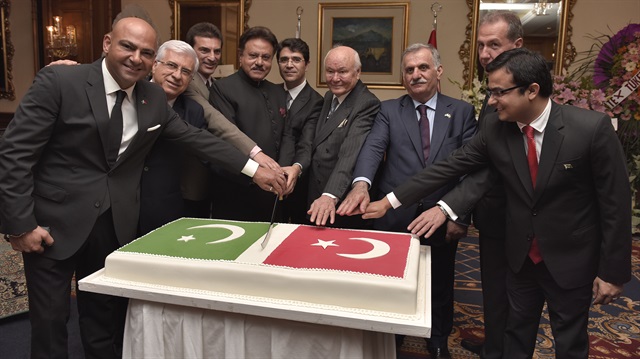 Pakistan's Istanbul consul general, Yousuf Junaid, said Tuesday that Turkey's Albayrak Holding Company has made great contributions to development in Pakistan.
During a speech at Pakistan's national day ceremony in Istanbul, Junaid said, "The Albayrak group has made significant contributions to the country's development through its massive investments in Pakistan."
A reception was held by the Pakistani Consulate in Istanbul to celebrate the national day. Ahmet Albayrak, chairman of the executive board of Albayrak Group and Pakistan's honorary consulate in Trabzon, Cahit Yaşar Eren, Pakistan's honorary consulate in Izmir and Murat Tarman, Pakistan's honorary consulate in Bursa were the co-organizers of the event.
Albayrak Group's CEO, Ömer Bolat, said the company is planning new investment in Pakistan in the near future.
The program had been postponed for two months due to terror incidents in Turkey, Bolat said.
"But as people who love and pray for Pakistan, we accepted your invitation and joined the program to show solidarity for our brother country," he added.
Consul Yousuf Junaid expressed his special thanks to Albayrak Group for its investment in several sectors in Pakistan.
"With regard to investment during the current Turkish and Pakistani administrations, the volume of investment is higher than during any previous governments," Junaid said.
8 yıl önce