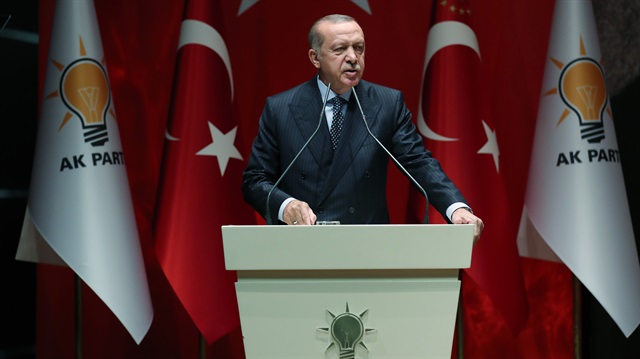 Turkish President Recep Tayyip Erdoğan on Friday slammed the United States for a "heinous economic attack" that has caused harsh fluctuations of the U.S. dollar/Turkish lira exchange rate.
"We were faced with a treacherous attack following the negative decisions the U.S. announced regarding our nation. The instant rise of the USD/TRY exchange rate to 7 in August is evidence of an attempt at economic assassination attempt," Erdoğan told officials of the ruling Justice and Development (AK) Party in Ankara.
"It is happening because we are not responding to the disrespectful stance of the U.S. administration against our sovereignty rights. Recent economic fluctuation in Turkey shows no country in the world is secure politically and economically," he added.
Turkey and the U.S. are currently experiencing rocky relations since Washington imposed sanctions on Turkey's interior and justice ministers after Ankara refused to release an American pastor Andrew Brunson, who faces terrorism-related charges in Turkey.
Last month, U.S. President Donald Trump doubled tariffs on aluminum and steel imports from Turkey.
Erdoğan stated that Turkey would see the result of the central bank's independence after its substantial rate increase a day earlier. On Thursday the central bank lifted its benchmark rate by 6.25 percentage points.
"The Central Bank raised the interest rates considerably. Now, we will see the results of [the bank's] independence," Erdoğan said.
Erdoğan calls for trust in currency
"All savings should be converted to the Turkish lira," Erdoğan added, calling on Turks to trust the currency.
The president also called on Turks abroad to buy gold and Eurobonds to generate additional public income.
Turkey's stock exchange rose by 0.95 percent, or 900.63 points, to open at 95,319.78 points on Friday.
"In 15 years, inflation was never in line with central bank targets," Erdoğan said, adding that a "lesson must be taught to those who exploit using price hikes."
Erdoğan warns against inflation
The president issued a warning regarding interest rates, stating "my patience has its limits."
The Turkish Central Bank on Thursday hiked its one-week repo rate by 625 base points.
In a statement, the bank's Monetary Policy Committee said the policy rate was increased to 24 percent, up from 17.75 percent.
Turkey not considering further fresh investments
Turkey is not considering further fresh investments and will instead complete investments which are 70 to 80 percent finished, Erdoğan said, noting that the relevant ministries were reviewing investment plans.
"The private sector must not give up on production and investments," Erdoğan said.