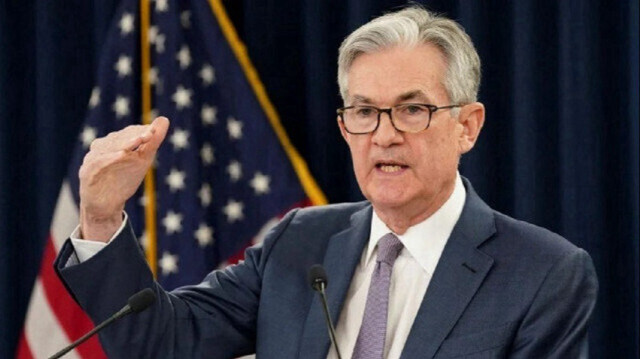 US Federal Reserve Chair Jerome Powell
US Federal Reserve Chair Jerome Powell said Tuesday the central bank's rate hikes are "likely to be higher" than previously expected.
"If the totality of the data were to indicate that faster tightening is warranted, we would be prepared to increase the pace of rate hikes," he said at the US Senate's Committee on Banking, Housing, and Urban Affairs. "Restoring price stability will likely require that we maintain a restrictive stance of monetary policy for some time."
Powell said the latest economic data, referring to the PCE price index, was stronger than expected and suggested the ultimate level of interest rates, known as the terminal rate, is likely to be higher than previously anticipated.
Fed's preferred inflation indicator, the core personal consumption expenditures (PCE) price index, rose 4.7% annually in January, up from a 4.6% year-on-year gain in December. It was higher than the estimates of a 4.3% increase. The core PCE price index rose 0.6% in January, up from a 0.4% monthly gain in December -- higher than the expectations of a 0.4% increase.
The central bank made hikes of a total of 425 points on seven occasions last year to fight record inflation that climbed to its highest in more than 40 years by mid-2022.
"We have covered a lot of ground, and the full effects of our tightening so far are yet to be felt. Even so, we have more work to do," said Powell.
The Fed made a hike of 25 basis points Feb. 1, raising the target range for the federal funds rate to 4.5% to 4.75%. Its next two-day meeting will conclude March 22, when its economic projections will also be released.
The central bank is expected to make a rate hike of 50 basis points at the conclusion of the meeting, according to the FedWatch Tool provided by the US-based global markets company the Chicago Mercantile Exchange Group as of 12.14 p.m. EDT.
Powell said there is "little sign of disinflation" so far in categories of core services that exclude housing, which accounts for more than half of core consumer expenditures.
"To restore price stability, we will need to see lower inflation in this sector, and there will very likely be some softening in labor market conditions," he said.
The Fed chair also noted that the central bank is taking "only measures" to bring inflation down.
"Will working people be better off if we just walk away from our jobs if inflation remains at 5, 6%?" he said. "Our overarching focus is using our tools to bring inflation back down to our 2 percent goal and to keep longer-term inflation expectations well anchored. Restoring price stability is essential to set the stage for achieving maximum employment and stable prices over the longer run."
Powell stressed that history cautions "strongly against prematurely loosening (monetary) policy," adding, "We will stay the course until the job is done."
7 months ago