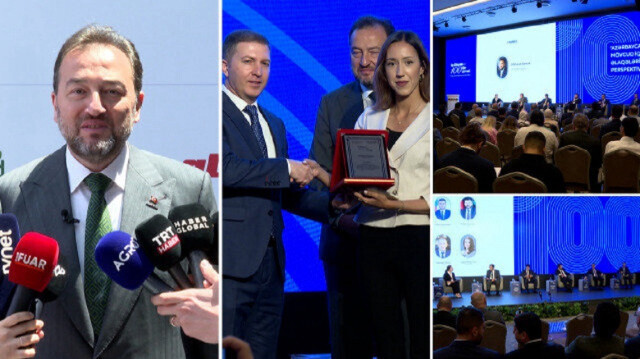 Istanbul hosts 'Business World Summit of the Century' to strengthen Türkiye-Azerbaijan trade ties
The highly anticipated "Business World Summit of the Century" recently took place in Istanbul, organized by MÜSİAD Azerbaijan. This summit aimed to enhance commercial ties between Türkiye and Azerbaijan, fostering greater trade collaboration and economic growth.
MÜSİAD President Mahmut Asmalı expressed his thoughts on the event, stating, "Today, we warmly welcome the delegation from our friendly and brotherly country, Azerbaijan, at MÜSİAD. We organized a two-session panel discussion in the morning and 'we to we' meetings will continue in the afternoon. This remarkable event is the Business World Summit of the Century, jointly organized by Turkish and Azerbaijani businessmen. We are hosting 70 Azerbaijani businessmen, with 50 of them showcasing their businesses at stands. We just toured their stands, ranging from the food and packaging sectors to the education and furniture industries. They have graced MÜSİAD with their presence, presenting their catalogs and engaging in fruitful discussions."
Orhan Memmedov, the President of the Azerbaijan Agency for Small and Medium Enterprises Development (KOBİA), also shared his assessment of the summit, which focused on enhancing commercial relations between the two countries. Memmedov emphasized that the summit coincided with the 100th anniversary of the Republic of Türkiye, expressing his hope for a prosperous outcome for the participating businesspeople. He stated, "Today, as you know, we are hosting the Business World Summit of the Century Forum, within the framework of both the 100th birth anniversary of Heydar Aliyev and the 100th anniversary of the Republic of Türkiye. As KOBİA and MÜSİAD, we hope that this forum will bring prosperity and abundance for the business community."
Fostering Bilateral Trade
Under the theme of "The Event of the Century," the summit celebrated the 100th birth anniversary of former Azerbaijani President Heydar Aliyev. Distinguished figures from the Azerbaijani and Türkish business communities convened in Istanbul, engaging in enriching panel discussions and forging connections across various sectors.
Notably, the summit recognized the Albayrak Group for its significant contributions to the Türkiye-Azerbaijan partnership. As a symbol of the enduring friendship between the two nations, the Albayrak Group was honored for exemplifying the collaborative spirit that strengthens economic ties. Elif Yeşilalioğlu, a respected journalist from Albayrak Media Group's TVNET, graciously accepted the plaque on behalf of the Albayrak Group, underscoring their commitment to fostering prosperity and solidarity.
5 months ago