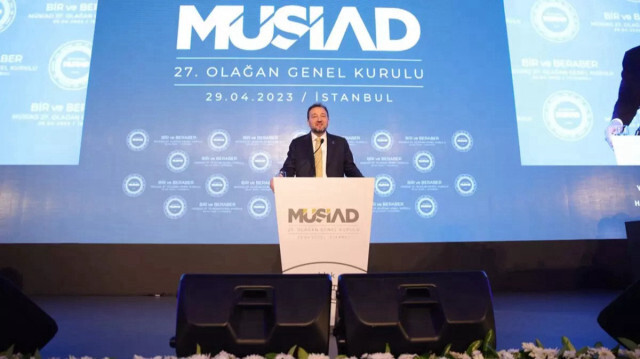 MÜSİAD President Mahmut Asmalı
The 27th Ordinary General Assembly of the Independent Industrialists' and Businessmen's Association (MÜSİAD) was held in Istanbul with the participation of a wide range of members from Türkiye and around the world. During the General Assembly, changes were made to the MÜSİAD Board of Directors and General Secretariat. Speaking at the event, MÜSİAD President Mahmut Asmalı stated that "We believe that by uniting as one nation, standing together, Türkiye will make a strong, decisive and glorious start to the Türkiye Century."
MÜSİAD, one of the most prominent business associations in Türkiye, aims to contribute to the development of Türkiye's economy by supporting and representing the interests of the country's independent industrialists and businessmen. The association has been carrying out various activities and projects to achieve this goal, and the 27th General Assembly was an opportunity to evaluate these efforts and discuss the future of the organization.
In his speech, President Asmalı emphasized the importance of local and national initiatives and praised the efforts made by Turkish entrepreneurs and young people in various fields. He mentioned several national projects, such as the National Technology Move, and highlighted Türkiye's ability to produce its own warplanes, warships, and tanks, as well as its own electric cars, satellites, and nuclear energy.
President Asmalı also addressed the issue of the earthquake that hit Türkiye in 2023, saying that the country is working together to overcome the disaster and will continue to do so until the wounds are healed. He expressed his confidence in Türkiye's potential to emerge stronger and more resilient from the disaster and praised the government's response to the crisis.
The 27th General Assembly of MÜSİAD served as a platform for Türkiye's business community to come together and discuss the challenges and opportunities facing the country's economy. The new leadership of the organization is expected to continue to work towards promoting Türkiye's economic growth and prosperity.
#
27th General Assembly Board
قبل٪ s