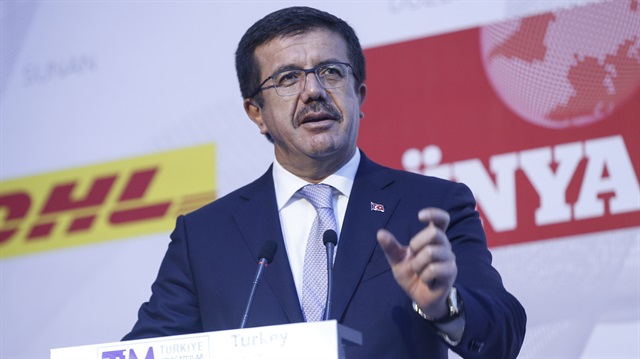 Tension over the illegitimate Kurdish independence referendum in northern Iraq has had no negative effect on Turkish shipments to the region, Turkey's Economy Minister Nihat Zeybekci said Friday.
"There are no restrictions on shipments to Iraq at the moment," Zeybekci said, adding border crossings continued under the supervision of the Turkish government, the Ministry of Foreign Affairs and security units.
The minister stressed that Turkey's security was quot;above all commercial interests,quot; and the necessary measures had been taken against potential restrictions on shipments to other parts of Iraq.
"There is no concern for Turkey's trade in the region for now," he added.
The total trade volume between Turkey and Iraq stood at $7.5 billion in the first seven months of the year, according to TurkStat.
Monday's illegitimate referendum saw Iraqis in Kurdish Regional Government-controlled areas -- and in a handful of territories disputed between Erbil and Baghdad, including ethnically mixed Kirkuk and Mosul -- vote on whether or not to declare independence from Iraq's central government.
Official preliminary results revealed that 93 percent of voters backed Kurdish independence, although the vote was widely criticized by the international community.
Along with Baghdad, Turkey, the U.S., Iran, and the UN had spoken out against the illegitimate poll, warning it would distract from the ongoing fight against Daesh and further destabilize the region.
Turkey has suspended all flights to Erbil and Suleymaniyah as of 6 p.m. local time (1500GMT) Friday.