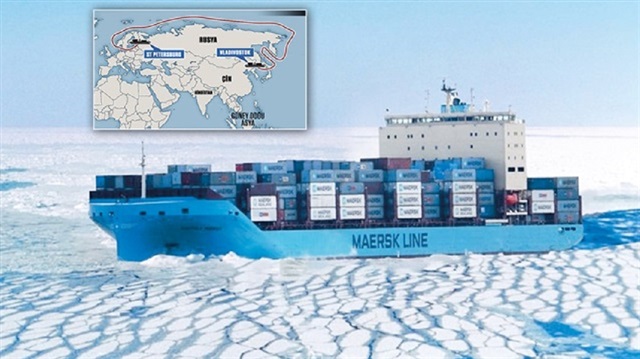 The "Venta Maersk," a new, 3600-container, ice-classed vessel operated by the Danish group A.P. Moller-Maersk, the world's biggest shipping group, has successfully completed its new trial voyage through the Russian Arctic.
It is the latest step in the expansion of the Northern Sea Route which is becoming more accessible to ships as climate change reduces the amount of sea ice.
Melting ice opening up new trade routes from Europe to East Asia are being seen as a development that could tilt the balance of global trade.
It is also considered as a ground-breaking move that could negate the U.S.'s hegemony in international waters.
The special-designed Danish-flagged vessel, carrying a cargo of Russian frozen fish and South Korean electronics arrived in St. Petersburg, the Russian port city located on the Baltic Sea on Friday, after leaving Russia's Pacific port city of Vladivostok on Aug. 22.
The trip took only 37 days, which was normally 10 to 15 days longer, including stops in Vostochny Stevedoring Company and Busan.
The trial "shortcut" trade route is significantly briefer than one south through the Suez Canal.
According to experts, this new Northern Sea Route could reduce the travel distance from East Asia to Europe from the 21,000 kilometers it takes to go via the Egypt's Suez Canal to 12,800 kilometers.
The US's hegemony over shipping routes
Shipping is the lifeline of the global economy because around 90 percent of world trade is today carried out by sea roads.
This is why the new route, which created a new strategic link between Russia, China and Europe, is being evaluated as an attempt to change the balance of global trade.
The route could bypass maritime highways controlled by the U.S. navy and bases such as the Gibraltar, Suez Canal, Red Sea, Bab-el-Mandeb and the South China Sea.
It could also become an alternative to the Atlantic-Pacific transition of the U.S.-controlled Canadian Northwestern Passage.
The passage is currently only feasible for around three months a year, however this may change in the future.
#
Canadian Northwestern Passage
5 yıl önce