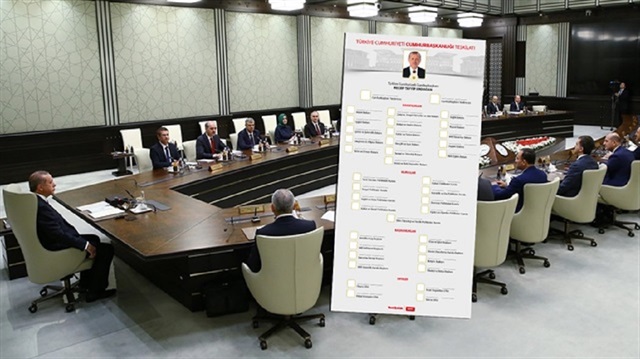 Turkish President Recep Tayyip Erdoğan announced the country's new cabinet on Monday evening, following his inauguration ceremony at the Presidential Complex in capital Ankara.
"Today, we have completed one of the most important democratic transformations in our country's history," said Erdoğan, referring to Turkey's transition to a presidential governing system.
The new ministers are as follows:
Deputy President: Fuat Oktay
Justice Minister: Abdulhamit Gül
Labor, Social Services and Family Minister: Zehra Zümrüt Selçuk
Environment and Urban Planning Minister: Murat Kurum
Foreign Affairs Minister: Mevlüt Çavuşoğlu
Energy and Natural Resources Minister: Fatih Dönmez
Youth and Sports Minister: Mehmet Kasapoğlu
Treasury and Finance Minister: Berat Albayrak
Interior Minister: Süleyman Soylu
Culture and Tourism Minister: Mehmet Ersoy
National Education Minister: Ziya Selçuk
National Defense Minister: Hulusi Akar
Health Minister: Fahrettin Koca
Industry and Technology Minister: Mustafa Varank
Agriculture and Forestry Minister: Bekir Pakdemirli
Trade Minister: Ruhsar Pekcan
Transport and Infrastructure Minister: Cahit Turan
Erdoğan earlier took oath as he was sworn in as Turkey's first executive president.
The June 24 elections marked Turkey's transition to an executive presidential system of government, doing away with the prime minister's post, among other changes.
"Once more I hope that the election results will be beneficial for our country," he added.
The number of ministries has been cut down from 26 to 16 in the new system.
Erdoğan will hold the first cabinet meeting on Friday.
Erdoğan won an absolute majority in the presidential election with 52.5 percent of the vote, according to Turkey's Supreme Election Council (YSK).