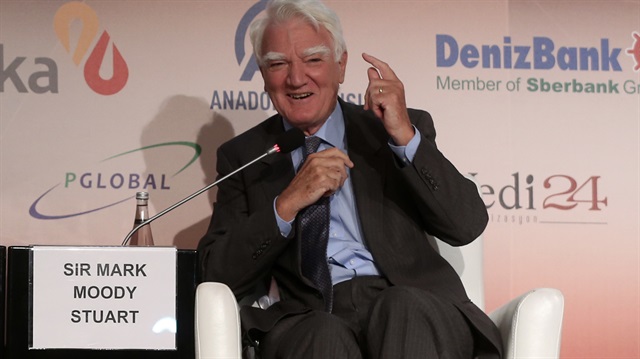 Former President of Royal Dutch Shell, widely known as Shell, Mark Moody-Stuart said that Turkey can be a regional energy hub like the Southeast Asian state of Singapore in the near future.
While speaking at the 7th Istanbul Finance Summit, Moody-Stuart, highlighted Turkey as the most important country in the region regarding the energy business as it bridged Central Asia and the Middle East with Europe.
He predicted that the hydrocarbon resources would be the most significant sector in Turkey within short term.
Underlining Turkey's geographical position, Moody-Stuart said that Turkey is a leading transit country for the oil supply from northern Iraq via Ceyhan port and form Russia via the Bosphorus and Dardanelles straits.
The construction works on the Trans-Anatolian Natural Gas Pipeline (TANAP) project that aims to pump Azeri gas to the European market via Turkey is underway. On the other hand, another gas pipeline project form Russia to Europe via Turkey, Turkish Stream, is expected to be launched soon as Russian officials hinted so.
The Turkish Stream project, which involves the construction of a gas pipeline from Russia to Turkey through the Black Sea, was frozen after the relations between Moscow and Ankara deteriorated in November 2015. In Aug. 2016, the Presidents of the two countries Vladimir Putin and Recep Tayyip Erdogan agreed to resume the implementation of the Turkish Stream project.
"Turkey continues to maintain its importance as a transit country for natural gas and oil. It is highly possible that Turkey could become an energy business hub like Singapore in the medium term," he said, adding that manufacturing, finance and industry sectors would lead the Turkish economy in short term.
Huge potential for hydroelectric energy
The British energy expert pointed out that Turkey has enough alternative energy resources like solar and wind energy.
"But the country has high potential for hydroelectric energy," he added.
Moody-Stuart noted that oil and gas discovery works off Cyprus and in the Black Sea is carrying vital importance for Turkey.
Turkey attracts investors from the Gulf
Turkey's economy has also drawn the full attention of investors from Gulf countries.
Erdem Ozan, Turkish consulate general in Dubai, said that Gulf investors place absolute trust in the Turkish economy.
There were some fractures after the July 15 coup attempt, but investors returned to the Turkish real-estate sector as it gave them full trust.
Speaking at the Cityscape Fair 2016 in Dubai, the Turkish diplomat said Abraaj Group, one of the leading companies in the Gulf, had announced to invest $500 million in Turkey.
Some other companies have also announced similar steps showing that Gulf investors are more interested in conducting business in Turkey than before the coup attempt, he added.
7 years ago