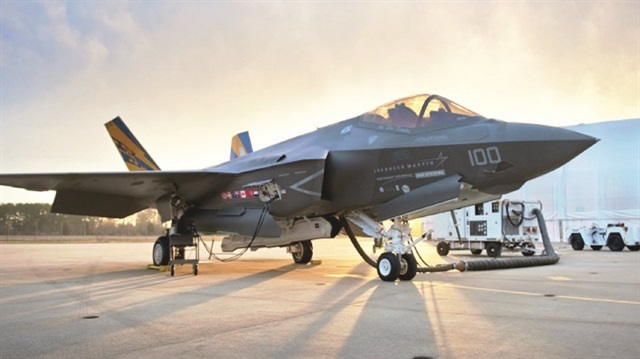 Turkey participated in the F-35 project in 2002, after Turkish Aerospace Industries (TAI-TUSAŞ) took on the manufacturing of some components in the aircraft's body as part of the international consortium led by Lockheed Martin Corp.
The country committed to purchase at least 100 F-35s planned to replace F-4 fighter jets scheduled for delivery in 2018, which will soon be discontinued, and an agreement worth $11.5 billion was signed, of which a portion has already been paid. A top Air Force official on Wednesday said that Turkey's purchase of the Russian S-400 missiles could affect the country's acquisition or operation of the F-35s, according to Defense News.
Security problem
Turkey had showed its alliance with the West by being involved in the F-35 project opposed to Eurofighter, but has recently been faced with covert sanctions by the United States and its other NATO allies, which led the country to question the project. This is because Turkey will be fully dependent on the U.S. in performance-based logistics (PBL) management while using the F-35 fighter jets.
Increasing cost
The increasing tension between Turkey and its NATO allies causes security concerns. Moreover, while the F-35 jets were planned to be produced for $40 million each, their price has been increased to $110 million, which leads Turkey to question their cost-efficiency. Meanwhile, Russia plans to produce SU-57 fighter jets as the equivalent to F-35s at $50 million each.
National project is a must
Another disadvantage is that an aircraft with the features of the visualized concept has not yet been produced. Turkey put forward its possible measures after the U.S. threat, including the modernization of the F-4 fighter jets. After perceiving the threat of covert sanctions, it has long since focused on the manufacture of national fighter TFX's.
Turkey wrongly accused of an axis shift
While Turkey is being accused of an axis shift by the EU and its NATO allies, the country is in fact being forced to search for new paths due to the fact that it has been hindered in similar projects. The United States earlier did not meet its demand for the Super Cobra attack helicopters, thus Turkey met its need with the domestic T129 ATAK helicopter. Turkey produced its own armed unmanned aerial vehicles as its demand for the MQ-1 Predator was not met as well. When considered from this point of view, Turkey is actually being forced to shift its axis by the U.S. because of its attitude.
Budget is enough to produce domestic aircraft
Defense experts have stated that with a budget of $11.5 billion, Turkey could design and manufacture a national and domestic aircraft, as well as assuming its PBL management. The Undersecretariat for Defense Industries (SSM) should consider multinational projects with the countries that Turkey could share the future, such as Qatar, Pakistan, Azerbaijan, Ukraine, Turkic Republics and the Eastern European countries, in such major projects requiring advanced technology and high cost, experts say.
South Korean model
Experts also note that the South Korean model can be referred to in the defense industry. The shortest way to reach South Korea's level in terms of technology and geopolitical power balance is to establish a new iron and steel industry with China in Turkey, which will improve Turkey's industry.