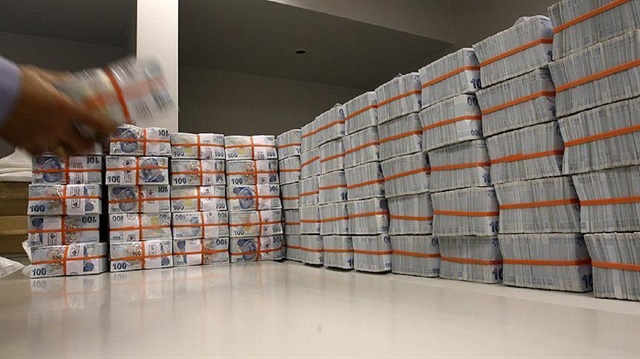 Turkey's banking sector received 33.28 billion Turkish liras ($9.68 billion) net profit between January and August this year, according to Banking Regulation and Supervision Agency (BDDK) on Tuesday.
Eight-month net profit of the Turkish banks climbed 25.3 percent on a yearly basis, compared with 26.55 billion Turkish liras ($9 billion) net profit in the same period last year, according to the BDDK report.
In January to August, Turkey's banking sector's total assets stood at nearly 3 trillion Turkish liras ($870 billion), going up 19.5 percent year-on-year.
As the biggest sub-category of assets, loans given by the banks rose to 1.95 trillion Turkish liras ($569 billion) as of Aug. 31, compared to 1.59 trillion Turkish liras (some $540 billion) loans at the end of August last year.
Total amount of deposits at the Turkish banks reached 1.6 trillion Turkish liras ($466.5 billion) at the end of August, marking a 21.2 percent yearly increase.
The banking sector's regulatory capital to total risk weighted assets ratio -- a significant indicator to figure out minimum capital requirements of lenders -- was at 17.18 percent August, while the ratio of non-performing loans to total cash loans stood at 3.12 percent, BDDK said.
In Turkey, over 50 state/private/foreign lenders, including deposit banks, participation banks, development and investment banks had nearly 12,000 domestic and overseas branches with more than 210,000 employees at the end of second quarter this year.
Turkish banking sector posted 37.5 billion Turkish liras ($10.7 billion) net profit last year while total assets of the sector stood at 2.73 trillion Turkish liras ($778 billion) as of Dec. 30, 2016.
On the last business day of last year, the banking sector's total loans and deposits stood at 1.73 trillion Turkish liras (around $495 billion) and 1.45 trillion Turkish liras (nearly $415 billion), respectively.
As of Aug. 31, the USD/TRY rate was 3.44, down from its historic high in mid-January of 3.94.
One dollar was exchanged for 3.02 liras on average last year while the exchange rate was 3.61 on average in the first eight month of this year.