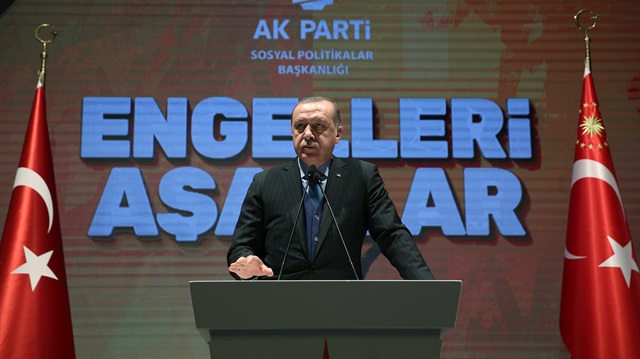 President Recep Tayyip Erdoğan said on Monday he was not requesting a limit on capital flows, and that businessmen need to show a "domestic, national stance" as Turkey is under attacks aimed at the economy.
"Those who move assets abroad because they are involved with terrorist organizations such as FETÖ or the PKK are traitors. I do not even have to mention them. Our businessmen must demonstrate a domestic, national stance at the moment as there are attacks trying to suppress our country economically. Our businessmen must support our economy during this period," Erdoğan said.
"We have nothing to say against anyone who transfers resources abroad for investment purposes, or who is seeking export opportunities, or engaged in trade activities," Erdoğan said.
In a speech in the capital Ankara, Erdoğan said there was nothing wrong with sending money abroad for investments.
"Turkey has a free market. Since 1989, those who wish have been able to move their money overseas. It will undoubtedly continue this way. All domestic and foreign companies will continue to operate in an integrated manner with the global financial system," he added.
He added that Turkey was a strong country that could take the necessary stand to protect its independence and national interests, no matter the circumstances.
At Monday's event, Erdoğan also said how "proud" Turkey was of the rising investment abroad by its businesspeople.
Over the past 15 years, over $40 billion worth of investment was made abroad by Turkish businesspeople, he said, adding that annual exports reached $155 billion as of November.
'Disabled people should be active in every field'
Erdoğan also spoke about the difficulties that people with disabilities faced in daily life.
"What matters isn't being disabled or not being disabled, but being human," he said.
Saying that not everybody was disabled from birth, he added, "There is no assurance that we will not have to live with a disability soon."
Also stressing the significance in Islam of caring for the disabled, he said, "They are not a burden but a blessing."
Erdoğan said people with disabilities need not be confined but should be active in the outside world.
"There is something that they can do in every area of life, and it is important to offer them the opportunity," he said.
He said currently over 500,000 disabled people benefited from home care services.
Also stating that the number of disabled people employed in state institutions rose over the past decade to over 52,000, Erdoğan called on the private sector to hire more disabled workers.