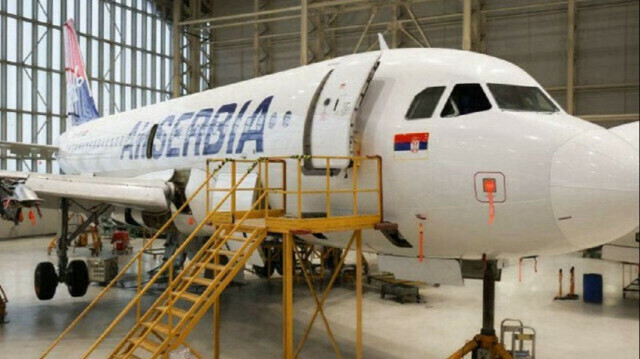 Turkish Technic, the maintenance, repair, and overhaul arm of flag carrier Turkish Airlines, has signed a deal with Air Serbia to provide base maintenance services.
Under the deal, base maintenance of the airlines' Airbus A320ceo aircraft has begun at Turkish Technic's Istanbul Ataturk Airport facilities, the company said in a statement on Friday.
The A330 aircraft will be taken to service at the same facility of Turkish Technic in the coming months, it said.
"We are delighted to strengthen Turkish Technic's partnership with Air Serbia and aim to continue building on our relationship further for the years to come," said Mikail Akbulut, the CEO of Turkish Technic.
Jiri Marek, Air Serbia's CEO, stressed that the flag carrier constantly strives for operational efficiency and better travel experience for its passengers.
"Accordingly, we made a partnership with Turkish Technic and entrusted them with the maintenance of several aircraft of our Airbus fleet. We strongly believe this contract is the beginning of a great partnership between our companies," he said.
Turkish Technic provides maintenance, repair, overhaul, engineering, modification, tailor-made PBH and reconfiguration services to many domestic and international customers at five locations.
قبل٪ s