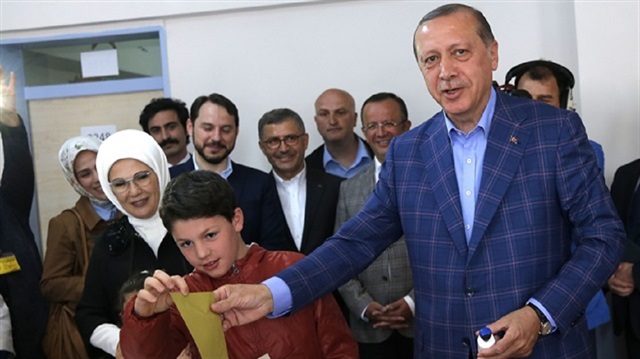 Turkish President Recep Tayyip Erdoğan has cast his vote in the Turkish referendum on Sunday as voting for the proposed amendments to Turkey's constitution is currently taking place across the country.
Erdoğan arrived with his wife, Emine, at the Saffet Çebi middle school, in the Istanbul district of Üsküdar, to cast his ballot amid heavy security.
"Today's public vote in the April 16 referendum is unprecedented. Throughout the history of our republic, there has been parliamentary voting on various occasions. However, our people's vote today is one that will change the republic's governance system," said Erdoğan after casting his ballot, and adding that, "We need to have quicker growth, we need to have a much faster pace. I believe that after votes are counted this evening, the choice of our people, both in Turkey and abroad, will, God willing, put us on the correct path towards the future. "
Erdoğan said that he will be following the results from Istanbul, and expressed his faith in the good judgement of the Turkish people.
55 million Turks are eligible to vote in the referendum.
There are 167,140 ballot boxes nationwide catering to 55,319,222 eligible voters. Ballots have also been placed in prisons, and more than 1.2 million Turkish expatriates voted abroad at 120 polling stations in 57 countries.
Polling centers opened at 08:00 am on Sunday in most provinces and voting will continue until 5:00 pm.