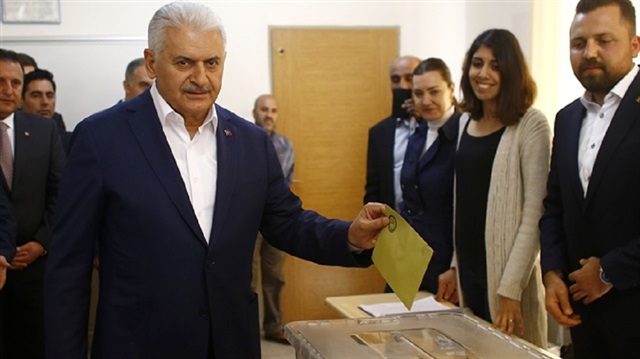 Turkish Prime Minister Binali Yıldırım, cast his vote Sunday morning in the coastal city of Izmir as voting begins in the referendum on amending several articles in the constitution, including switching to a presidential system in Turkey.
Yıldırım cast his ballot at the Gölcükler Adnan Olcay middle school in the coastal city of Izmir.
"Today, citizens across Turkey's 81 provinces are voting in an atmosphere of peace and fellowship, they're choosing, and come this evening, the boxes will be opened and the results will be known," Yıldırım said after casting his vote, adding that, "No matter what the result ends up being, we'll respect it. The choice made by our people is the most beautiful one."
55 million Turks are eligible to vote in the referendum.
There are 167,140 ballot boxes nationwide catering to 55,319,222 eligible voters. Ballots have also been placed in prisons, and more than 1.2 million Turkish expatriates voted abroad at 120 polling stations in 57 countries.
Polling centers opened at 08:00 am on Sunday in most provinces and voting will continue until 5:00 pm.