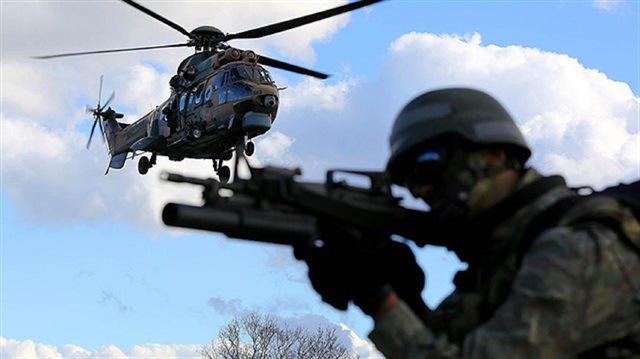 In an official announcement made by Turkey's Interior Ministry it was stated that 65 terrorists were neutralized across the country, between June 19 and 28 June, within the scope of counter-terrorism operations. 36 were killed, while 13 were captured alive and 16 surrendered to authorities.
Interior Ministry declared that 835 aerial and ground operations were launched between June 19 and June 28, 2017 by the Gendarmerie Special Forces (JÖH), the Gendarmerie Commando Units, and the Special Forces Police (PÖH), under the security provided by the Turkish Armed Forces. 866 people accused of aiding and harboring terrorists were taken into custody, according to the statement.
50 with suspected ties to the Daesh terrorist organization, and 474 with suspected ties to the Fetullah Terrorist Organization (FETÖ)/ Kurdistan Workers' Party (PKK)-affiliated Democratic Union Party (PYD) were taken into custody. Moreover, five affiliated with leftist terror organizations were apprehended by the authorities.
In operations carried out, 3 thousand 252 people were detained in total, one thousand 395 for terror crimes (866 from PKK/KCK, 50 from Daesh, 474 from FETÖ/PYD, and five from leftist terror organizations), one thousand 857 for cybercrimes, planned peace, drugs and smuggling operations. Out of the 65 neutralized terrorists, 36 were killed, 13 were captured alive, and 16 surrendered.
344 people were also detained in the operation targeting drug traffickers. Turkish security forces detained 72 suspects for the propaganda of separatist terror organizations such as FETÖ/PYD, PKK/TAK and Daesh which includes praising these organizations, declaring their links with these organizations publicly, promoting hatred and hostility, insulting statesmen and security forces, threatening the indivisible integrity of the state and the public's welfare on social media accounts.
The PKK is listed as a terrorist organization by Turkey, the European Union and the United States. The PKK has been conducting armed violence in the southeastern part of Turkey since 1984. More than 40,000 people, mostly civilians, have been killed in the three-decade long conflict.
FETÖ terrorists are led by U.S.-based Fetullah Gülen, who orchestrated Turkey's July 15 coup attempt and is the mastermind behind a long-running campaign to overthrow the state through infiltration of Turkish institutions, particularly the military, police and judiciary.
Since the failed coup, operations have been ongoing in the military, police and judiciary as well as in state institutions across the country to arrest suspects with alleged links to FETÖ.
The terrorist group is also known for its network comprised of hundreds of schools around the world.