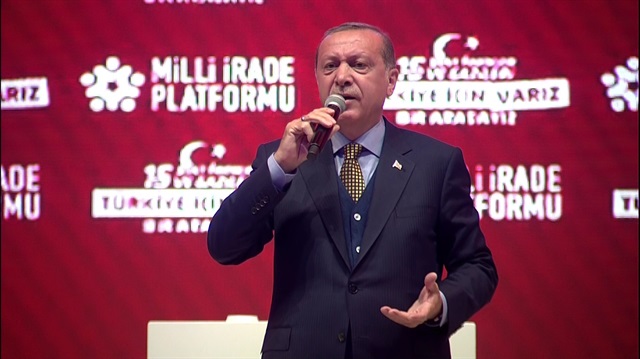 Turkish President Recep Tayyip Erdoğan said late Wednesday that the terrorist PKK, Daesh, and FETÖ are all trying to damage Turkey, even if they are also at odds with each other.
Speaking at a meeting in Istanbul to honor the victims of last year's defeated coup attempt, Erdogan said although the PKK, Daesh, and the Fetullah Terrorist Organization (FETÖ) -- the group responsible for the coup bid -- look like mutual enemies and fight each other, they still share the same overall goal.
"Is it only coincidence that these three terrorist organizations are pointing their guns at us? Of course not. Even if the names and claims of these organizations are different, their target is Turkey," Erdogan stressed.
He said Turkey has fought the PKK and those who support PKK for over 30 years.
Erdoğan added: "Basically, we have the real fight with those powers behind the scenes. In Germany, there is a struggle with these powers. In Belgium, the Netherlands, Switzerland, and Sweden there is a struggle with these, too."
Most of the people the PKK has killed since 1984 were Turkey's Kurdish citizens, Erdoğan said, adding that the PKK cannot threaten people in eastern and southeastern Turkey anymore, because Turkish security forces prevent it.
"Ten thousand five hundred terrorists were neutralized in [the last] 20 months," he stressed.
'They hurt Muslims and Islamic civilization'
The PKK is listed as a terrorist organization by Turkey, the U.S., and the EU. During its over 30-year terror campaign against Turkey, more than 40,000 people have lost their lives.
Since the group resumed its armed campaign in July 2015, more than 1,200 people, including security personnel and civilians, have lost their lives.
Turkey's government believes FETÖ and its U.S.-based leader Fetullah Gülen orchestrated the defeated coup, which left 249 people martyred and nearly 2,200 injured.
Erdoğan also said that nearly all the people killed by "savage" Daesh were also Muslims. He said Daesh, like the PKK, first targets teachers, Islamic scholars, and opinion leaders.
"This heretical structure which claims to act in the name of Islam mostly hurts Muslims and the values Muslims represent. They tried to rub out whatever is present in the region from Islamic civilization," he added.