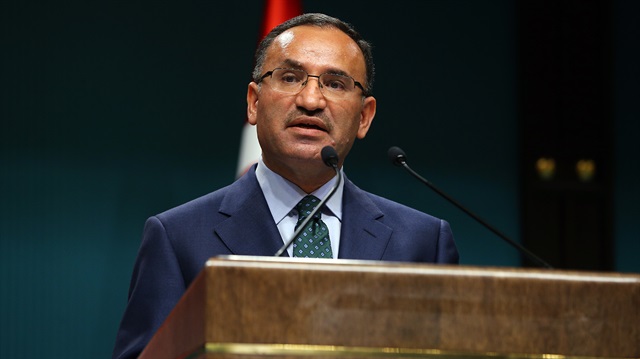 Germany has become a safe haven for enemies of Turkey, Deputy Prime Minister Bekir Bozdağ said on Saturday.
"The attitude of German authorities must be questioned. FETÖ and the PKK are protected in Germany. We sent 4,500 files [of evidence against FETÖ terrorists] to Germany. Why aren't these files being investigated by an independent German judiciary?" Bozdağ said.
President Recep Tayyip Erdoğan said on Friday, following Merkel's comments about not upholding the customs union with Turkey, that German political parties, including the party of Chancellor Angela Merkel, were the "enemies of Turkey" and called on Turkish nationals in Germany not to support them.
GERMANY SUPPORTED 'NO' IN THE REFERENDUM
"Those who voted 'no' [in the referendum] were supported in Germany. Gabriel [Sigmar] said that they should apply visa-free travel for those who vote no. Are those who vote no going to vote in Germany? When Germany speaks about our referendum, they are not counted as interfering in our international affairs, but when we call out to Turkish citizens, we are accused with interfering," said Bozdağ.
Turkey voted on an 18-article reform bill on Apr. 16 that changed the parliamentary system to a presidential one.
"Merkel said that 49 percent of voters [who voted no in the referendum] have expectations of them. Will that 49 percent vote in Germany?" Bozdağ said.
"Germany supports the PKK. PKK administrators addressed the PKK via a teleconference from Germany," he continued.
NO ESCAPE FROM BEING TRIED
"German authorities neither confirmed nor denied, and we know what that means diplomatically. As Turkey, we requested them and we will continue to do so. Unfortunately, the German authorities have not taken a positive step to date," Bozdağ said.
A key figure in Turkey's July 15 coup attempt perpetrated by the Fetullah Terrorist Organization (FETÖ) was sighted in Germany. Fugitive Adil Öksüz was FETÖ's "Air Force imam;" a term used to describe Gülen's various key figures who convey instructions they and other FETÖ terrorists heed.
"There has been no positive answer regarding Adil Öksüz to date, and we will continue to follow up on our expectations. We will eventually bring them [FETÖ terrorists] to Turkey and hold them accountable. There is no escape from this," Bozdağ said.
FETÖ terrorists are led by U.S.-based Fetullah Gülen, who orchestrated Turkey's July 15 coup attempt and is the mastermind behind a long-running campaign to overthrow the state through the infiltration of Turkish institutions, particularly the military, police and judiciary.
Since the failed coup, operations have been ongoing in the military, police and judiciary as well as in state institutions across the country to arrest suspects with alleged links to FETÖ.