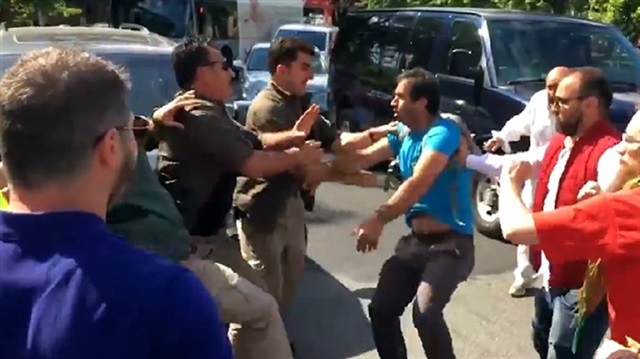 Supporters of the Kurdistan Worker's Party (PKK) and Democratic Union Party (PYD) terrorist organizations gathered in front of the Turkish Embassy in Washington in an unauthorized demonstration.
Nine people were injured and two arrested during clashes between rival groups of protestors outside the Turkish ambassador's residence in the U.S. capital on Tuesday, police said.
One of the nine people hospitalized was in a serious condition.
A group of supporters held YPG flags and posters of the PKK ringleader Abdullah Öcalan, and shouted slogans against Turkey during the arrival of President Recep Tayyip Erdoğan.
A Turkish citizen named Alp Kenan Dereci was wounded due to the lack of security measures adopted by the U.S. police force as they did not interfere with the unauthorized protest.
Dereci was taken to the hospital, and the situation worsened when the American police did not take the Turkish community's complaints about the attackers seriously.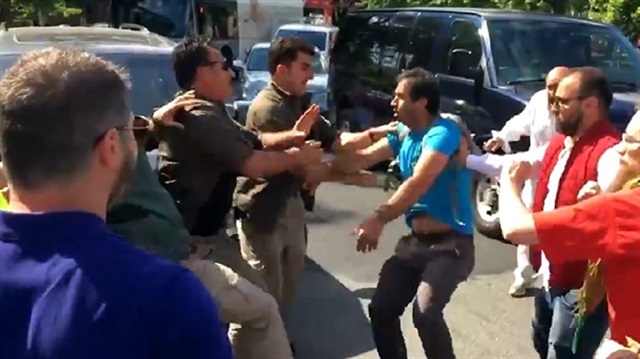 The president's security team intervened
The Turkish president's guards and other Turks at the scene intervened. Upon the intervention of the guards, the supporters of the terrorist organizations fled.
The PKK is listed as a terrorist organization by Turkey, the European Union and the United States.
The PKK has been conducting armed violence in the southeastern part of Turkey since 1984. More than 40,000 people, mostly civilians, have been killed in the three-decade long conflict.