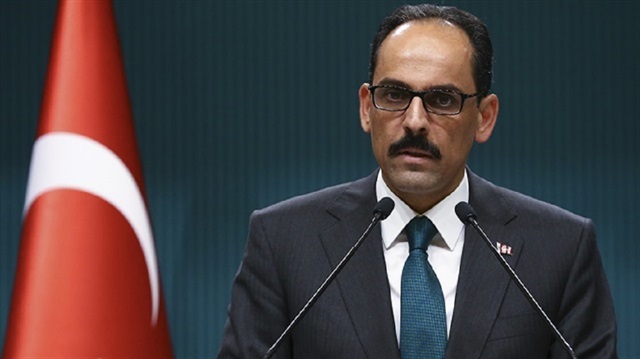 Turkish presidential spokesman İbrahim Kalın shared details on Monday about the events planned to be held across Turkey on the anniversary of the July 15 failed coup attempt.
'Erdoğan will call on the people'
Speaking to members of the press, Kalın said that president Recep Tayyip Erdoğan will call on the people of Turkey to take to the streets as they did on the day of last year's failed coup attempt, adding that the president is expected to take part in the planned democracy watches across Turkey.
"A series of events and ceremonies will be held in order to commemorate our July 15 martyrs. There's sadness of course. But at the same time, there's great heroism. Events are planned with the participation of our president. There will be a parliament session. The president will take part in certain events in Ankara and Istanbul," said Kalın.
On the issue of the West remaining silent about the assassination of Justice and Developement (AK) Party officials, by Kurdistan Workers' Party (PKK) terrorists, in southeastern Turkey, Kalın said it displays double-standards on the part of these countries, noting that "Turkey will continue its fight against terrorism in the most effective way and will never back down."
'Erdoğan receives Russian defense minister Shoygu'
Kalın said that president Erdoğan discussed Syria's roadmap and the implementation of non-conflict zones on Sunday with the Russian delegation sent by president Vladimir Putin, adding that intense efforts are being made to deliver humanitarian aid to the most affected regions. Kalın also said presidents Erdoğan and Putin could hold a meeting on the margin of the upcoming G20 summit.
'Will there be an Afrin operation?'
Asked about a possible Afrin operation, Kalın reiterated that Turkey reserves the right to protect its interests and is capable of taking all kinds of measures "without answering to anyone." He also added that Turkey will reciprocate more than accordingly to all types of threats.
'Qatar crisis statement'
Kalın addressed the ongoing Gulf dispute, stating that Turkey enjoys normal relations with all Gulf countries. He added that president Erdoğan discussed the Gulf row on the phone with U.S. President Donald Trump, and that the results of their conversation are slowly starting to take shape, noting that the upcoming days will be critical.
"We stressed before that it's not only about Qatar when it comes to a country's sovereignity, but about the security of the entire region. They only aim to add fuel to the fire," Kalın said.
Kalın also said there are plans to hold a meeting with Saudi's King Salman during the G20 summit.