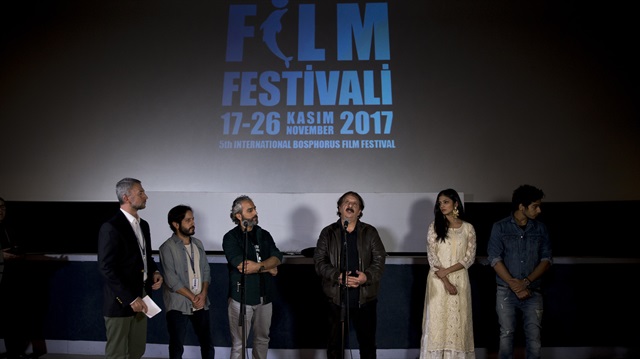 Istanbul's Fifth International Bosphorus Film Festival awarded its grand prize, Sunday, to 'Les Miserables' -- a short narrative film about police violence.
More than 3,400 applications from 102 countries were received for the festival's national and international competitions.
The Anadolu Agency is one of the main sponsors of the festival, which is organized by the Bogazici Cinema Association and the Istanbul Media Academy.
The winners of the festival were:
International Awards:
- Ahmet Ulucay Short Film Grand Prix: 'Les Miserables' by Ladj Ly
- Best Editing Award: 'Beyond the Clouds' by Hassan Hassandoost
- Best Cinematography Award: 'Rifle' by Glauco Firpo
- Best Screenplay Award: 'Malaria' by Parviz Shahbazi
- Best Actor Award: Ishaan Khattar for his role in 'Beyond the Clouds'
- Best Director Award: Parviz Shahbazi for 'Malaria'
- Best International Feature Film Award: 'Malaria' by Parviz Shahbazi
- Best International Short Fiction Film Award: 'Retouch' by Kaveh Mazaheri
- Best International Short Documentary Film Award: 'Grandfather's Father' by Karlis Lesins
National Awards:
- Lifetime Achievement Award: Béla Tarr
- Best National Short Documentary Film Award: 'The Edge of Menderes' by Mehmet Can Micik
- Best National Short Fiction Film Award: 'Happiness' by Necip Caghan Ozdemir
- Best National Feature Film Award: 'The Guest' by Andac Haznedaroglu
- Best Cinematography Award: 'Yellow Heat' by Marton Miclauzic
- Best Director Award: 'Something Useful' by Pelin Esmer
- Best Screenplay Award: 'All Felicities are Possible' by Selman Kilicaslan
- Best Editing Award: 'The Guest' by Ahmet Hafez and Can Yagan
- Best Actor Award: Cezmi Baskin for his role in 'Murtaza'
- Best Actress Award: Oyku Karayel for her role in 'Something Useful'