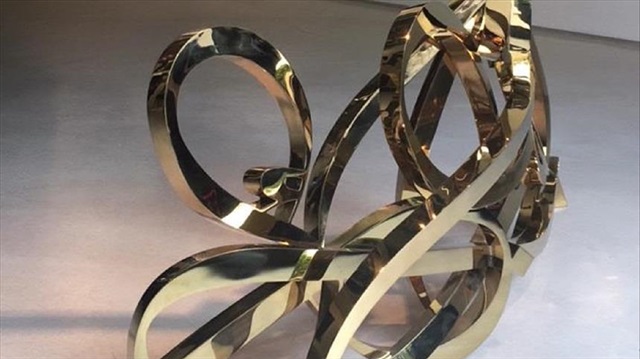 An award-winning Franco-Tunisian artist has told Anadolu Agency that using Arabic language and culture in his work has helped him "reconnect" with his French identity.
Thirty-five-year-old eL Seed -- born Faouzi Khleefi to Tunisian parents in Paris -- is the joint winner of the 2017 UNESCO-Sharjah Prize for Arab Culture.
Blending Arabic and French themes in paintings, prints and sculptures, he aims, through his "contemporary approach... to bring people, cultures and generations together".
The artist spoke to Anadolu Agency this week at a new exhibition about his love for the French capital, where the words "Paris, je t'aime" are written in 3D gold-plated calligraphy.
It is the love of his city and his Tunisian heritage which informs much of his work.
eL Seed chose his love of Paris as the exhibition theme, aiming to send a message that "art can't be limited to a certain group of the population nor to a place".
"I always carry Paris in my art wherever I go. I always try to use quotes, poems and texts related to this city that I love," he said.
"So this exhibition is kind of a love declaration to Paris, where I was born and grew up."
His art is presented in paintings of colorful, wavy and curvy Arabic calligraphy representing the texts of French writers, poets and artists as well as the Tunisian poet Abu Al-Qasim Echebbi.
Different influences
Three different illustrations carry the words of French poet Charles Baudelaire in Arabic: "Looking from outside into an open window one never sees as much as when one looks through a closed window."
In other illustrations, a quote from writer Jean Cocteau: "There's no such thing as love; only proof of love."
Another carries a message from novelist and playwright Honore de Balzac: "But Paris is a real ocean. Throw out the probe, you will never know the depth."
An illustration of Echebbi's famous verses is in Arabic calligraphy and reads: "He who doesn't like to climb mountains, will forever live among the hollows."
From his beginnings in urban art to decorating famous landmarks and clothing brands with his original Arabic calligraphy, eL Seed's trademark style draws inspiration from Arabic and French poetry as well as passages from the Quran.
He marries modernity and authenticity in his artwork with long, swooping Arabic letters interweaving in perfect harmony and exploding colors.
eL Seed has displayed his work across the world, including Cairo, New York, Montreal, Cape Town, Melbourne and Gabes in Tunisia.
He considers his art a "call not only on the words and their meaning but also on their movement, which ultimately lures the viewer into a different state of mind".
The artist adopted his pseudonym at the age of 16 after reading Le Cid (The Master), a five-act tragicomedy written by one of the greatest seventeenth-century French dramatists, Pierre Corneille.
'Internal struggle'
In his teens, eL Seed says he suffered an identity crisis -- he felt he did not belong to his Tunisian roots but simultaneously felt rejected by French society and culture.
"I went through an internal struggle and felt I needed to make choice. So I turned back to my Arabic roots and rejected my French identity," he told Anadolu Agency.
"And the funny thing is that Arabic calligraphy, Arabic script, helped me to reconnect and reconcile with my French identity."
After to discovering his roots, learning Arabic and taking up calligraphy he came to the conclusion that he has "one identity made of different parts".
eL Seed is full of artistic contradictions, as he admits himself.
He is the same artist who displayed his work a few years ago on Louis Vuitton products but also in buildings in one of the poorest and most-neglected neighborhoods of Cairo.
Asked why he chose to present his artworks in different and opposing areas or forms, eL Seed said: "I do it because it feels right to me. The power of the artist is to bring people together… and for me Arabic script has been the most powerful tool.
"Art is for all. I interact and live a lot of human experiences and try to reflect it through my art. Even though some of those art pieces may disappear one day, the stories and the people behind them will live in me forever."
The exhibition, presented in the Art District gallery at Le Royal Monceau hotel, will run to Aug. 26.