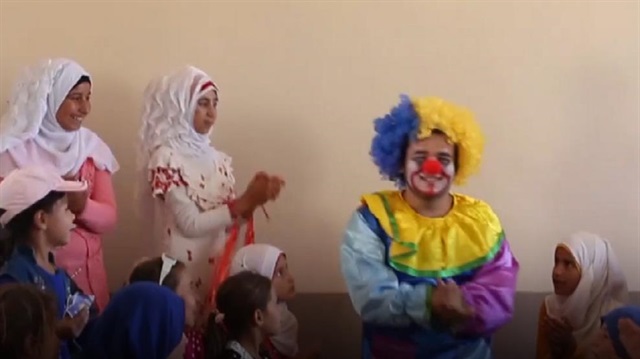 This year, the second "Borderless Festival" that was organized by Turkish NGOs, the International Refugee Rights Association (UMHD) and IHH Humanitarian Relief Foundation, put a smile on the faces of 20,000 Syrian refugee children living in the Euphrates Shield zone as well as Turkey.
Justice and Development (AK) Party Ankara Deputy Zeynep Yıldız, who joined the festival said, "If you feed a child's dreams and soul, that child never forgets you."
Games, movies, competitions
Within the scope of the festival, which started on Sept. 16 and lasted until Sept. 30, various activities were organized in Azaz and Mare in Syria as well as Burakatı, Dabık, Soran, and al-Bab which were cleared of terror by Operation Euphrates Shield in addition to the countryside of Bizia, Kabbasin and Çobanbey.
The last two days of the event were held in the Öncupinar refugee camp in Turkey's bordering province of Kilis. UMHD volunteer teams from Turkey entertained the refugee children by organizing street games, movies, shows, workshops and competitions.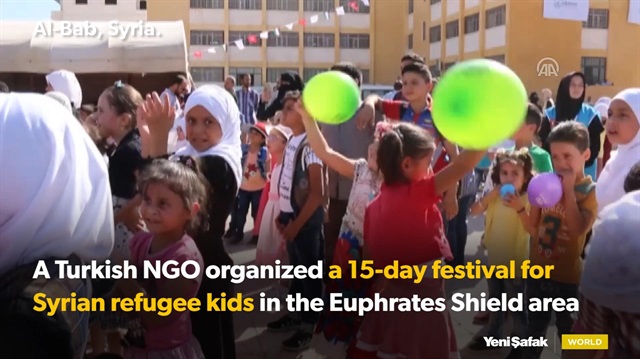 Fraternity knows no borders
AK Party Ankara Deputy Zeynep Yıldız said, "If you give a child a meal, that child forgets about it the next day, but if you feed a child's dreams and soul, that child will never forget you."
Kilis Mayor Hasan Kara said, "There are 97,000 locals and 138,000 Syrians in Kilis" and stressed that the city has been hosting a Syrian population which is more than its own population for seven years. Besides, UMHD President Ad. Uğur Yıldırım who indicated that borders are not an obstacle, said that "Fraternity knows no borders. In Turkey, in Syria, anywhere in the world, we are united."