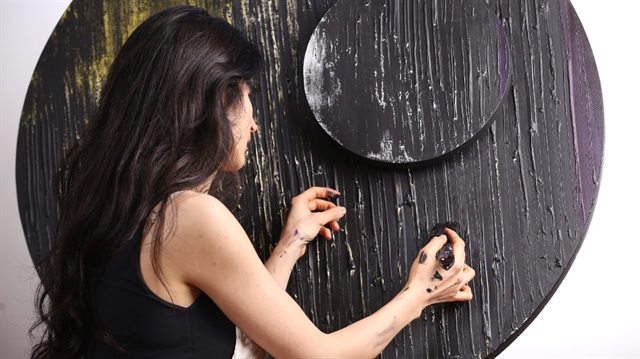 The 12th instalment of the Contemporary Istanbul Art Fair, held concurrently with the Istanbul Biennial, opened on Wednesday.
Contemporary Istanbul, the city's leading art fair, promises its most international edition to date with leading galleries, artists, institutions and organizations from Turkey and abroad uniting under the roof of a single fair.
The fair, which is being hosted at the Istanbul Congress Center and Istanbul Lütfi Kırdar Congress and Exhibition Center is due to host both domestic and foreign art lovers to its diverse variety of over 60 galleries.
One of the solo artists exhibiting her work at the fair is Seval Özcan, who paints abstract compositions with different textures and layers on canvas. Özcan aims to emphasize life's transitions and social problems.
Her painting titled 'Tears of the World" represents tears shed for humanity. Özcan symbolizes the goodness in evil and the evil in goodness with black and white tonal gradations. She depicts the inhabitants of earth with a small circle in the forefront, and the larger circle represents the world.
"Violence" symbolizes fears from the storm of violence that surrounds the world; "Doomsday" depicts conscious awakening; "Calmness" represents a state of balance and calm.
Özcan's work can be seen at the Gama Art Gallery booth at this year's Contemporary Istanbul.