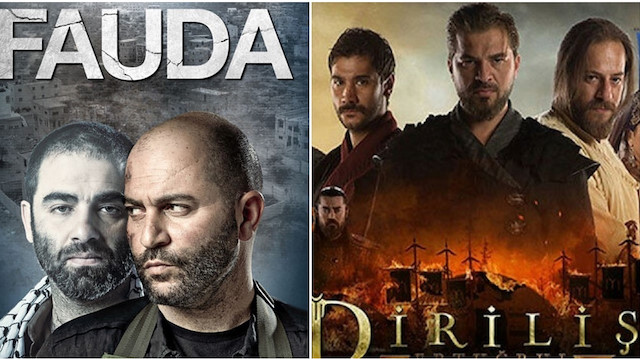 Two international hit television dramas, one produced by Turkey and the other by Israel, have captured the interest of large audiences in India after the country began to implement stay-at-home orders to curb the spread of coronavirus.
During quarantine, Turkish television series "Resurrection: Ertugrul," known as the Muslim Game of Thrones, glued Indian audiences to the small screen, while interest in the Israeli Netflix show "Fauda" skyrocketed.
The Israeli political TV series "Fauda" (Arabic for "chaos") is attracting mostly right-wing nationalists in India. The spy thriller is based on the story of an Israeli undercover unit, the mistaravim, whose commandos are disguised as Arabs and carry out missions in occupied Palestinian territories.
After Hindu nationalist Narendra Modi claimed a landslide victory in national elections, the country has witnessed a soaring populist rhetoric, a hallmark of the new wave of nationalism.
Historical drama "Resurrection: Ertugrul" on the other hand is highly popular among Indian Muslims, particularly in the disputed Kashmir region where India frequently shuts down internet access. The show is woven around 13th century Anatolia and tells the story prior to the establishment of the Ottoman Empire. It illustrates the struggle of Ertugrul Gazi, father of the empire's founder.
The broad influence of the much-discussed TV series, 'Ertugrul' and Fauda', have become strong tools of soft power as they vie for their audience's attention.
'Dirilis: Ertugrul' in Pakistan
Turkish television series Resurrection: Ertugrul has become a major hit in Pakistan since the national broadcaster PTV began airing Urdu-dubbed episodes of the show in April.
The series has also inspired Pakistan to erect statues of Ertugrul Ghazi in a residential area of Lahore.
Ertugrul Gazi surged to fame in Pakistan when Prime Minister Imran Khan endorsed the series and said watching it would promote "Islamic history and ethics" among the country's youth.
More than 58 million people watched the first episode on PTV's YouTube channel in two months and the entire show has had more than 250 million views in Pakistan.