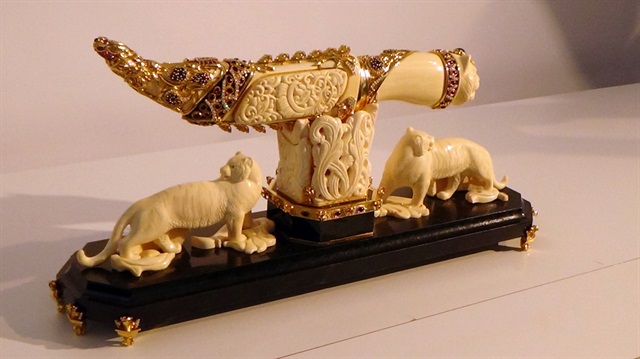 Three men were caught by police in an anti-smuggling operation as they allegedly attempted to sell the dagger.

Police began investigating a Turkish businessman who was trying to sell the dagger. It was apparently looted from one of Qadafi's palaces during the uprising which ended in the long-time Libyan leader's brutal execution in 2011.

The businessman is said to have purchased the dagger for $4.6 million three months ago. He was allegedly planning to sell it to a Saudi businessman in Istanbul for $10 million.

In search of the jewel-encrusted smuggled piece,police carried out a raid on the businessman's office in Istanbul's Esenyurt district. The businessman, identified by his initials of A.A., was taken by the police along with two other suspects --identified by the initials B.A. and M.Y.

Officials said the ivory dagger, studded with sapphires, diamonds, rubies and emeralds, sits atop a hand-carved ivory base with ivory lions on both sides.

The suspects were released pending trial after being questioned on suspicion of smuggling historical artifacts.

Police say the dagger was looted from one of Gaddafi's palaces during an uprising which started in 2011.

The bloody conflict ended on Oct. 20, 2011 with the removal and death of the longtime Libyan leader.

In another operation in Istanbul's Arnavutkoy district, police also confiscated 200 antique gold and bronze coins from the Byzantine and Ottoman eras.