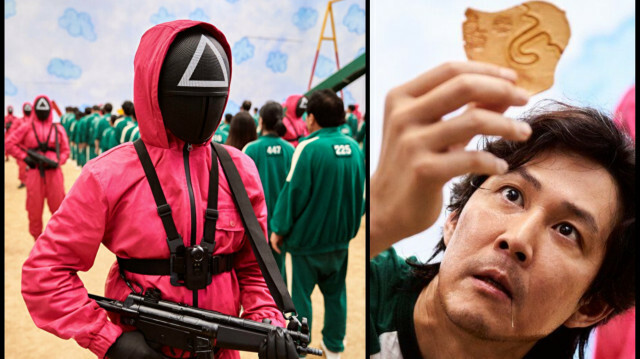 Squid Game: How cheery childhood games turn into massacre play for 'losers'
Squid Game, Netflix's new drama of Korean dystopia, is one of the hottest subjects on everyone's lips since its global debut in mid-September, sparking challenges, theories, and meme fests on social media platforms, as it threatens to knock the streaming platform's most-watched-series, Bridgerton, off its throne.
The hype surrounding the gruesome show has not yet plateaued, on the contrary, its popularity is through the roof as audiences can't seem to get over the Orwellian masterpiece. 
Written and directed by filmmaker Hwang Dong-hyuk, the nine-episode-long thriller is centered around vast socio-economic inequality, violence, and desperation, concepts most of us can empathize with.
It tells the tale—  or rather, nightmare— of a group of 456 debt-ridden hapless souls, who are lured to a remote island to fight to the death for the chance to score a whopping $38 million. To win this massive prize, contestants need to participate in six matches themed around real-life Korean children's games, such as tug-of-war and marbles. However, the seemingly youthful games contain a gory twist, as the losers get killed by pink-onesie-wearing enforcers, who look oddly like power rangers, and only one player is supposed to be left standing.
Director Hwang Dong-hyuk spent more than ten years trying to develop the story. In a recent interview with CNN, he divulged the details of the addictive survival show's success and characters.
"This is a story about losers," Hwang said, referring to the everyday life struggle in an atmosphere of neo-liberal late capitalism, in which the "winners" get to "level up." 
He unveiled that the two main characters, Seong Gi-hun and Cho Sang-woo, are named after his old friends, describing them as his "inner clones." 
"They represent the two sides of me. Like Gi-hun, I was raised by a single mother in a financially troubled environment in Ssangmun-dong. At the same time, like Sang-woo, I went to Seoul National University, and my entire neighborhood praised me and had high expectations of me,"  Hwang concluded.
As the Covid-19 pandemic has exposed the growing wealth gap, TV shows and films exploring the meaning of unfairness in the modern world appear to be increasing.
Squid Game fans are waiting for a second season; however, Netflix hasn't yet announced plans to renew the series just yet.
2 years ago