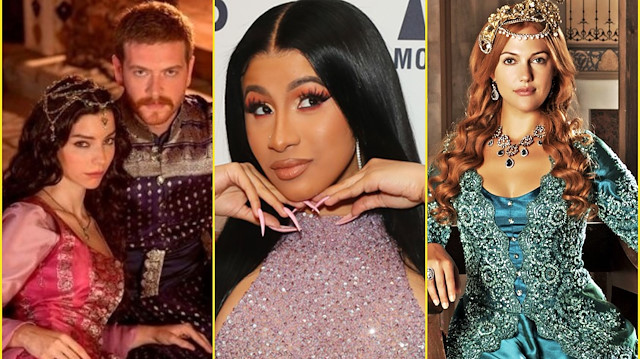 Famous U.S. rapper Cardi B, who has broken several streaming records and is known for her "Girls like me" collaboration with Maroon 5, seems to be binge-watching the hit Turkish TV series Magnificent Century (Muhtesem Yuzyil) after she lit up social media with a series of cryptic tweets.
Cardi B took to her Twitter account to discuss her new obsession in a series of tweets and retweets, saying "I hate Nurbanu." Nurbanu Sultan was the chief consort of the Ottoman Sultan Selim II, who reigned between the years of 1566 and 1574.
I hate Nurbanu 😒😒

— iamcardib (@iamcardib) July 7, 2020
Magnificent Century tells the story of Suleiman the Magnificent and his love affair with concubine called Hurrem Sultan, whom he wedded, breaking with centuries of Ottoman tradition.
Replying to a hardcore fan of Nurbanu Sultan who said that the chief consort was his queen, Cardi B replied, "Sorry hunny HÜRREM IS THAT !" clearly showing whose team she bats for.
Sorry hunny HÜRREM IS THAT ! https://t.co/dxolSS9aP8

— iamcardib (@iamcardib) July 7, 2020
The breakout of the mega-hit Magnificent Century led to a boost of Arab tourists in Turkey with the show being watched by more than 500 million viewers worldwide.
It has also gone down in history as the first TV series bought by Japan. Approximately 150 Turkish TV series have been sold to over 100 countries, including Algeria, Morocco and Bulgaria, since 2002.
Entertaining more than 700 million audience from Europe, Middle East, Central Asia, Africa, and the U.S. so far, Turkey is expected to earn $1 billion in TV series exports by 2023.