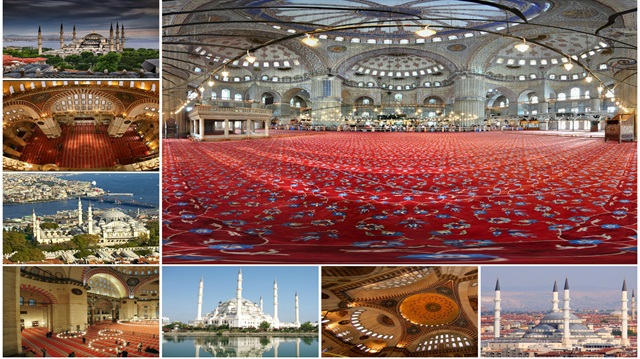 Mosques are large, tranquil structures where Muslim worshipers can perform both their Congregational and individual prayers. However, with their architectural, historical and aesthetic significance, the mosques in Turkey are much more than a place of prayer. Many mosques in Turkey are rather beautiful tributes to Islamic art.
While mosques may be a center of controversy today in some parts of the world, they continue to be included as part of normal daily life in Turkey.
Here's a list of Turkey's top ten largest and most beautiful mosques, which includes some world-renowned mosques as well.
1. Sabancı Central Mosque, Adana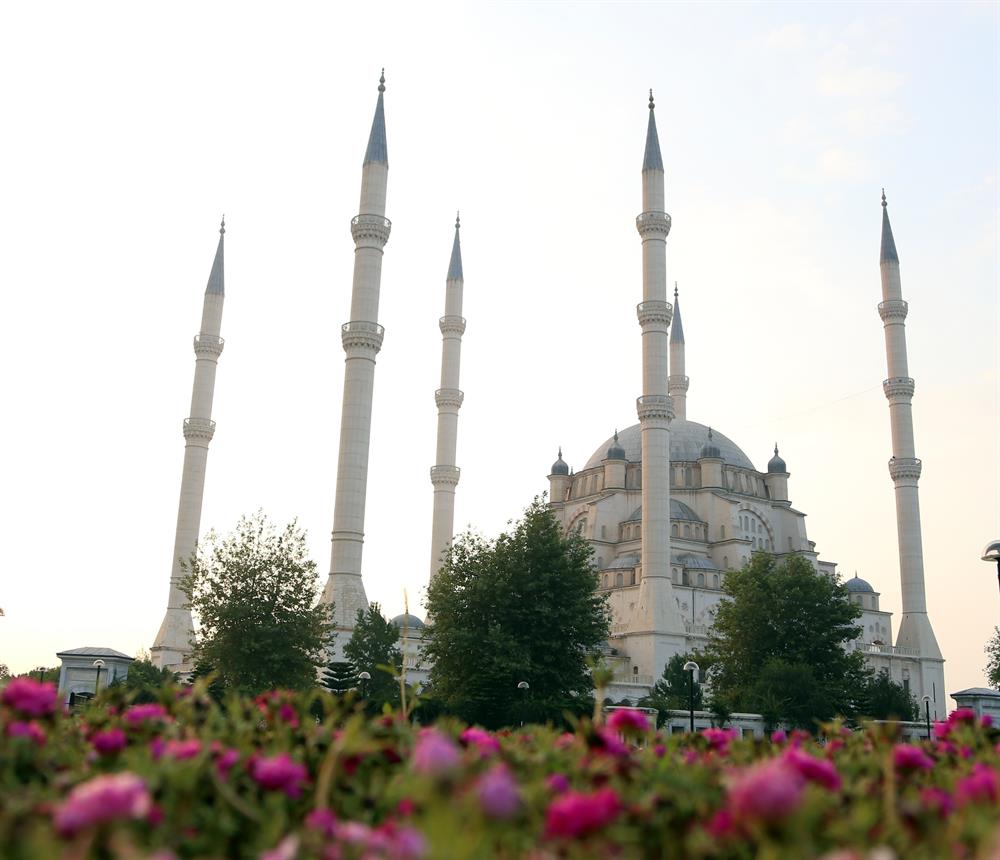 The largest mosque in Turkey built jointly by the Turkish Religious Foundation and the Sabancı foundation in the southern province of Adana. The exterior of the mosque is similar to the Sultan Ahmet Mosque (Blue Mosque) in Istanbul, while the interior decoration resembles the Selimiye Mosque in Edirne. The construction of the Mosque, which has a capacity of 28,500, was started in 1988; however it went into service in 1998. The mosque is built on a total of 52,600 square meters of land and has a closed area of 6,600 square meters.
2. Kocatepe Mosque, Ankara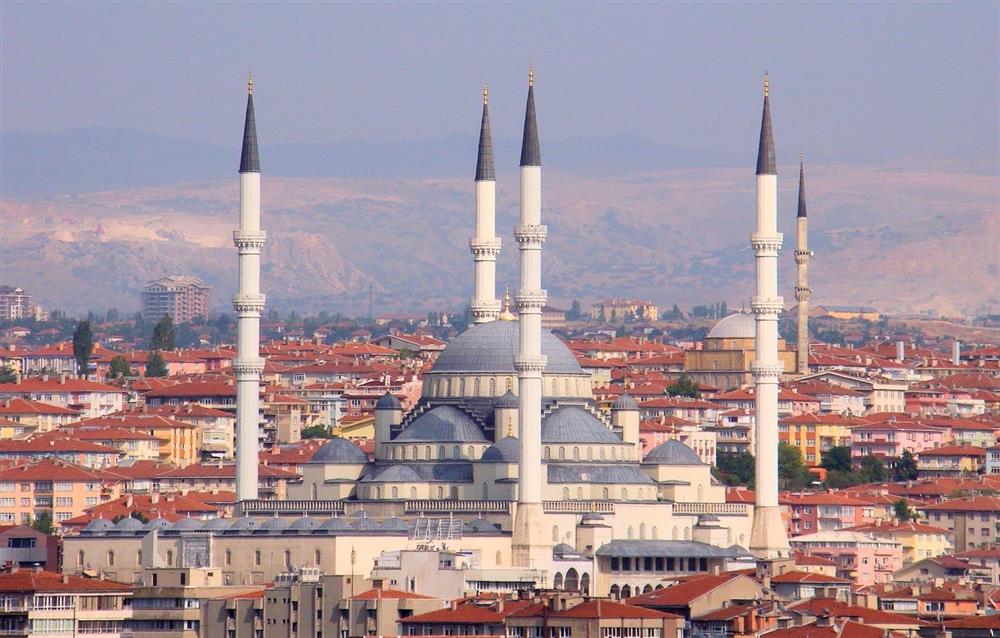 The mosque, which witnessed the funerals of many top government officials, is the largest mosque of the capital Ankara. Between 1967 and 1987, it was built on a prominent hill in the Kocatepe neighborhood of the city, which made the mosque visible from almost anywhere in Central Ankara. The Kocatepe Mosque is considered the second largest in Turkey with its 4,500 square-meter-enclosed area offering prayer service to 24,000 worshipers.
3. Abdülhamid Han Mosque, Kahramanmaraş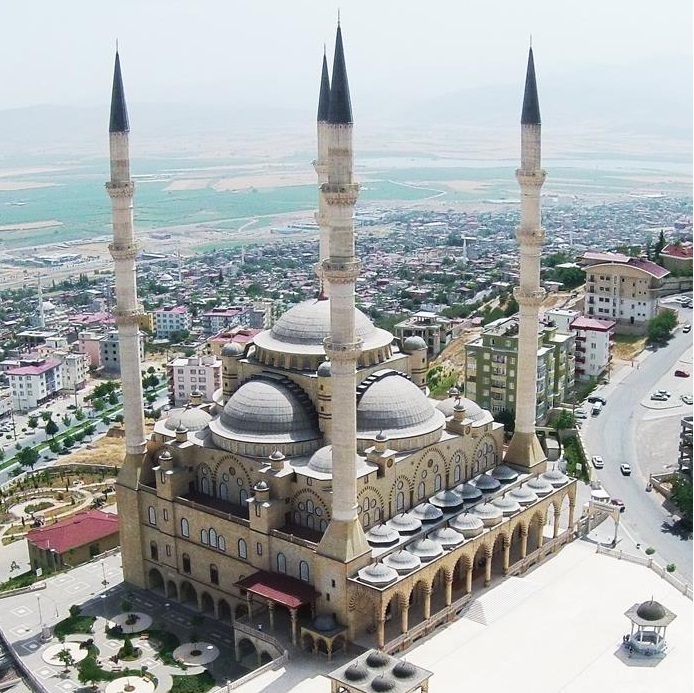 The third largest mosque in Turkey was built between 1993 and 2011 in Kahraman on a total of 46,000 square meters of land including 3600 square meters of an enclosed area. A total of 20,000 people can perform their spiritual duty at a time.
4. Mimar Sinan Mosque, Ataşehir, Istanbul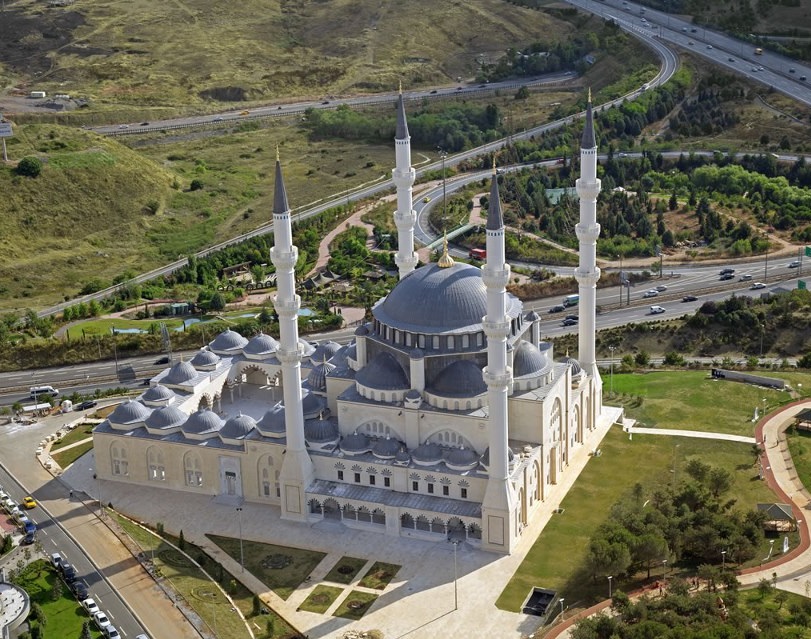 Another modern mosque in Turkey, built in the Ataşehir neighborhood of Istanbul's Anatolian part, was constructed on an area of 36,758 square meters in two years and opened for prayer services on July 20, 2012. The mosque has a capacity of 10,000 in its 2,808-square-meter closed area.
5. Süleymaniye Mosque, Istanbul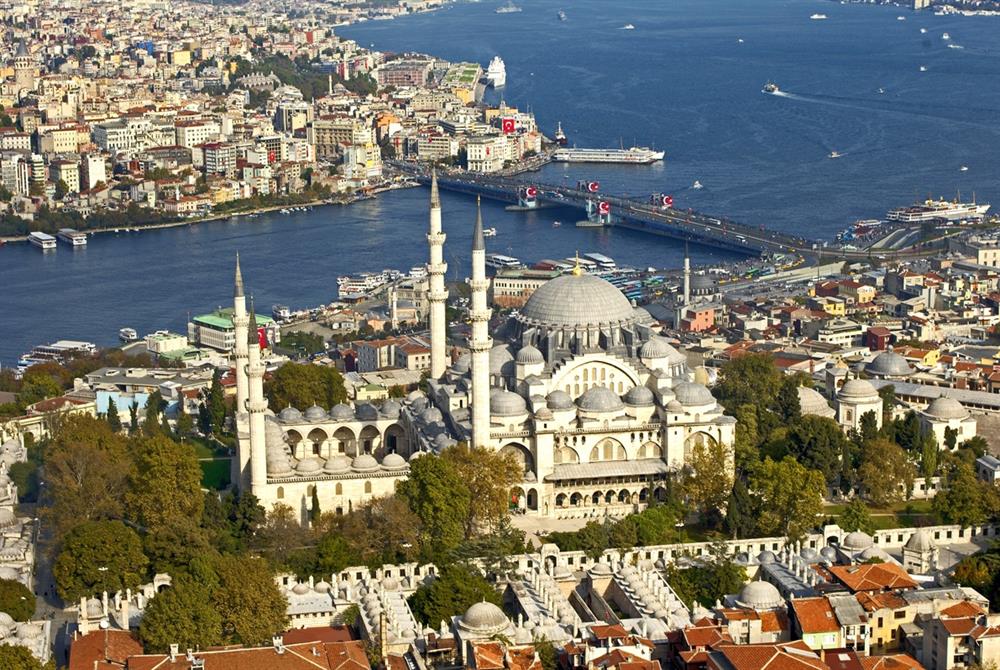 This mosque is appraised as Turkey's master architect, Mimar Sinan's most significant work.. Süleymaniye, the largest mosque in Istanbul, was built in between 1550 to 1558 on the order of Süleyman the Magnificent. The design of the Süleymaniye also plays on Süleyman's self-conscious representation of himself as a 'second Solomon'. It references the Dome of the Rock, which was built on the site of the Temple of Solomon. The Süleymaniye, similar in magnificence to the preceding structures, asserts Süleyman's historical importance.
6. Sultanahmet Mosque, Istanbul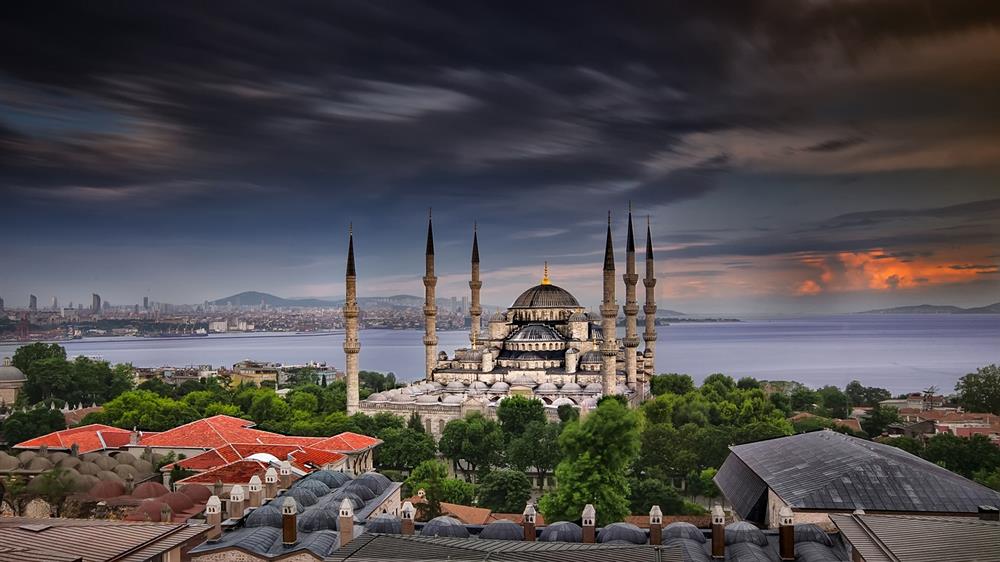 The most attractive mosque in Istanbul, as well as in Turkey, was designed by a pupil of Sinan, Sedefkar Mehmet Ağa, between 1609 and 1616. Sultanahmet Mosque is as grand as, and similar in design to, Süleymaniye, and features an unrivaled selection of İznik tiles. Until 1998, when the six-minaret Sabancı Central Mosque was inaugurated, Sultanahmet was the unique mosque in Turkey possessing six minarets.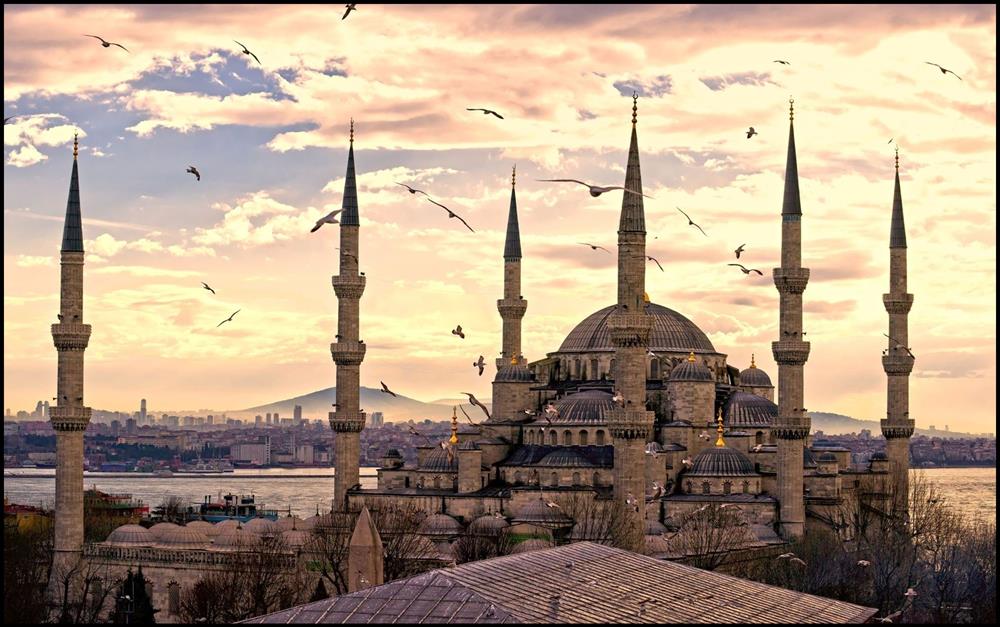 The mosque is situated in Istanbul's historical area of Sultanahmet near hippodrome and Hagia Sophia.
7. Selimiye Mosque, Edirne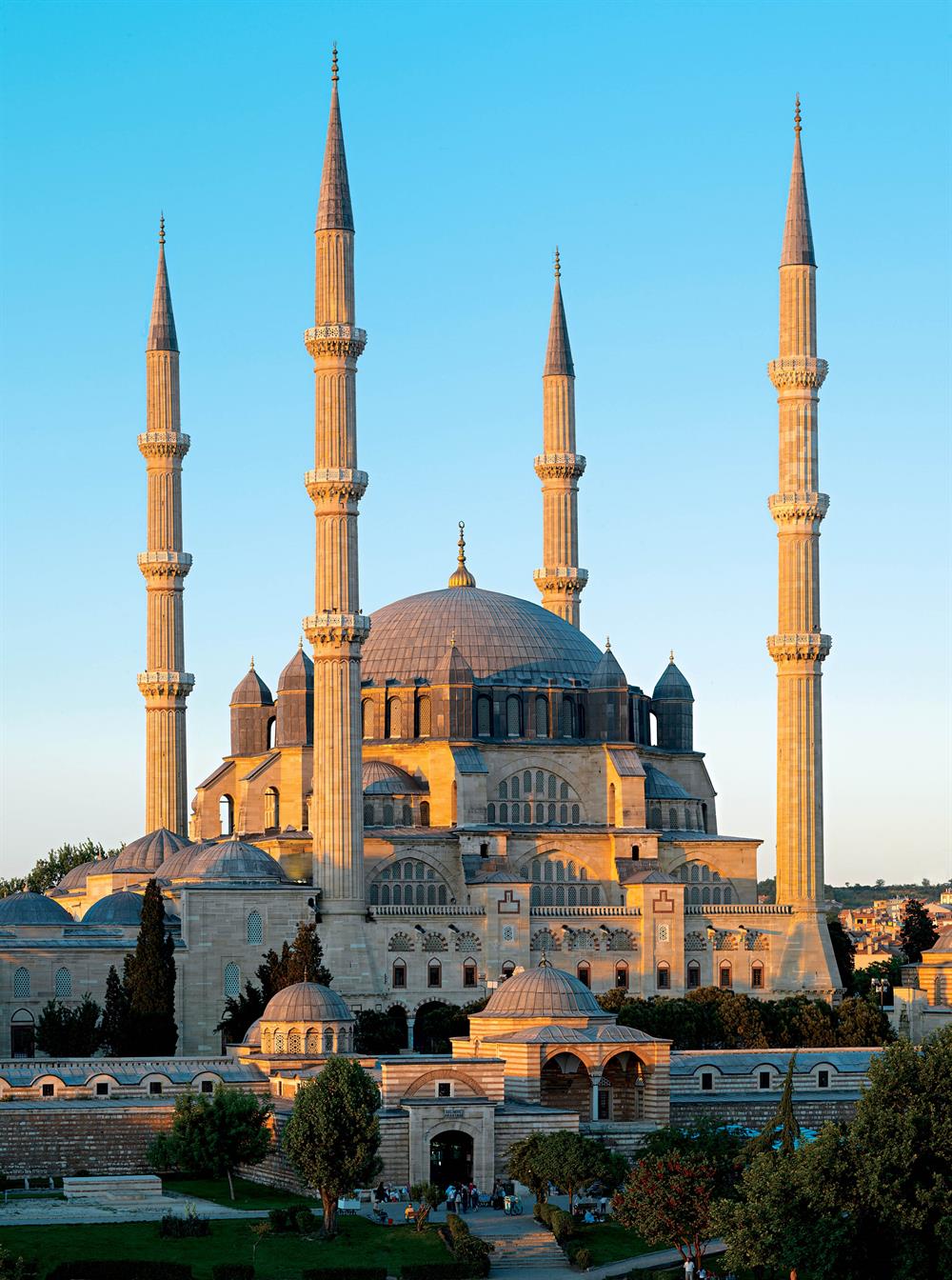 The mosque was built between 1569 and 1575 by Mimar Sinan on a 28,500-square-meter area. Sinan himself rated Selimiye Mosque, which he built for Sultan Selim II in Edirne, as his masterpiece which, coincidentally, was the last mosque that he designed. About 6,000 people can perform their prayer in the closed area of the mosque, which was listed in UNESCO world heritage sites in 2011.
8. Ahmet Hamdi Akseki Mosque, Ankara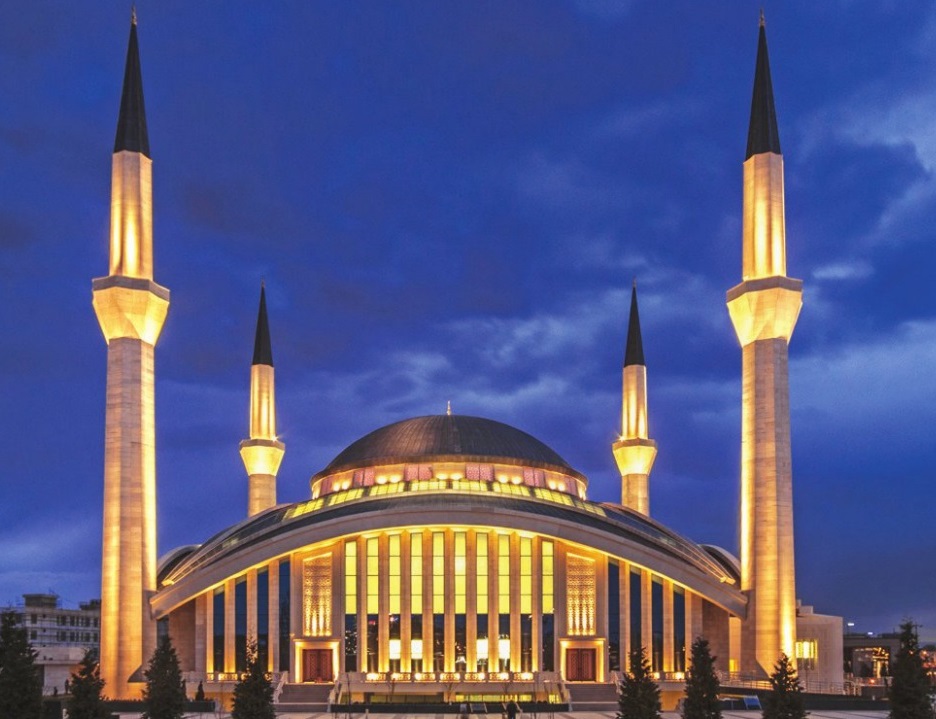 Another modern mosque was built in Ankara province between 2008 and 2013, where about 6,000 people can pray at the same time. It opened its doors in April 2013.
9. New Mosque, Istanbul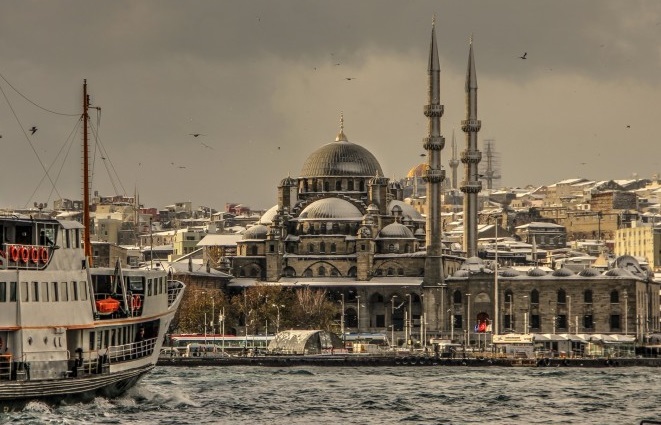 New Mosque (Yeni Camii) was the last example of large mosques built in Istanbul by the Ottoman family. The construction of the mosque, which is situated on the Golden Horn in the Eminonu quarter of Istanbul, was started in 1597 and ended in 1665. The mosque's original name, Valide Sultan Mosque, meaning Queen Mother, was named after Sultan Mehmet III's mother, who ordered the mosque to be built when her son ascended to the throne; however, since the construction lasted so long, she did not live to see its completion. As with other imperial mosques in Istanbul, the New Mosque was designed as a külliye, or complex with adjacent structures to service both religious and cultural needs.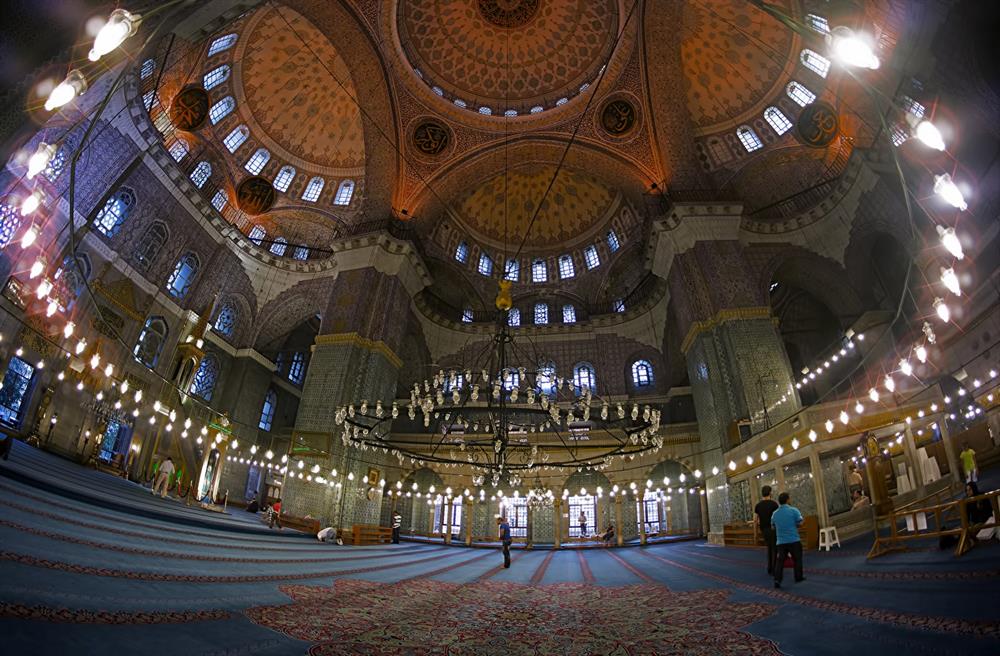 Since the construction lasted more than sixty years, the mosque project experienced managerial changes, as well. The original architect was Davut Ağa, an apprentice to the great Mimar Sinan. However, Davut Ağa died in 1599 and was replaced by Dalgıç Ahmet Çavuş.
10. Grand Mosque of Bursa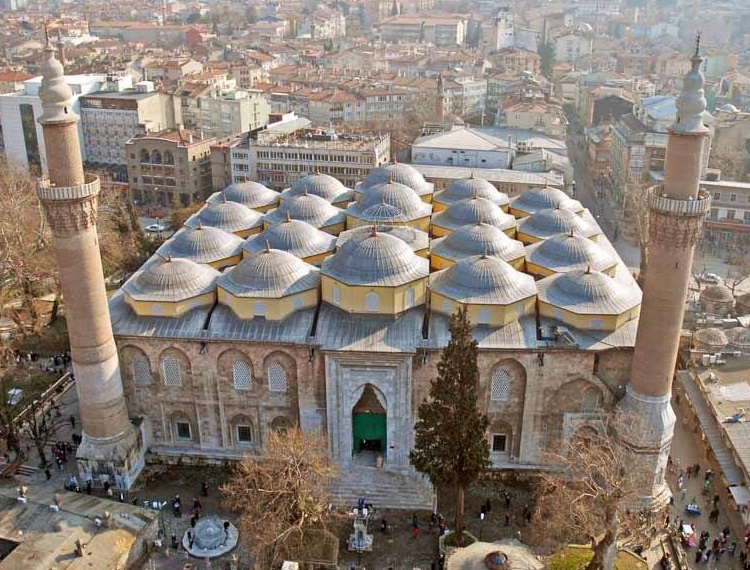 The Grand Mosque of Bursa, or Bursa Ulu Camii, was built between 1396 and 1399 by Ottoman Sultan Beyazit I. The Mosque is a landmark of early Ottoman architecture which used many elements from the Seljuk architectural style. The calligraphy, written on the walls and columns in the mosque on small and large plates, is one of the greatest examples of Islamic calligraphy in the world. The rectangular mosque on a land of 5,000 square meters, contains 20 domes and 2 minarets.