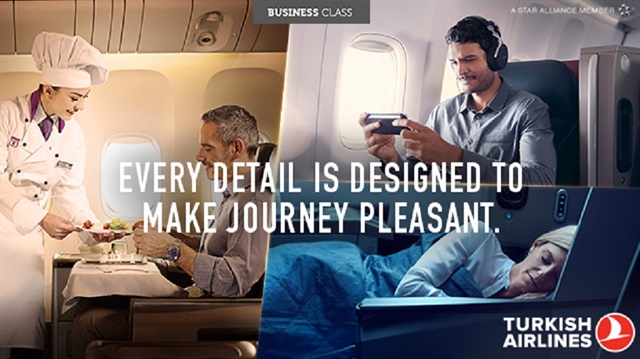 1-Pre Flight
Turkish Airlines Business Class passengers will pass through private entries (E2 gate for International flights, CIP Lounge Entrance for Domestic flights) for all their flights from our transfer hub, Istanbul Atatürk Airport, thus they do not have to wait in long entrance queues. Check-in proceedings at Atatürk Airport are made at the counters, where passengers are welcomed with flowers and chocolates, opened exclusively for Business Class. Business Class passengers are entitled to carry more baggage and earn more miles from our Miles & Smiles program, Turkish Airlines' advantageous Frequent Flyer Program. There is also a private Transfer Desk and security service at Ataturk Airport for our transfer passengers.
The Usage of Turkish Airlines Lounge Istanbul at Ataturk International Airport
A wide range of unmatched services offered to our passengers at Turkish Airlines Lounge Istanbul have repeatedly received the World's Best Business Lounge Dining Award.
Lounge Istanbul offers, depending on one's mood and needs, a place of relaxation, a place to shower and revive, a place to snack, dine or watch food presentations, a spot for children to play and an arcade full of exciting and challenging electronic diversions. These are all integrated into a space that reflects both Ottoman and Seljuk architectural roots with different activities available in each section. The wide range of activities and services transforms pre-flight or connecting time into its own special experience, unique to Turkish Airlines.
2- Flight
There are several privileges offered to our BC passengers. However, some of our services vary according to flight duration and aircraft type. These are:
· Welcome Drink
· Addressing by Name
· Hanger Service (Cloakroom)
· Newspaper, Magazine Service
· Special Menu Card
· Drink + Appetizer + Canapé Distribution
· In the mornings, Hot Breakfast Service (Flying Chef)
· Entrée
· Dessert - Fruit - Cheese Service - Drinks
· In the afternoon and evenings, Hot Meal Service (Flying Chef)
· Turkish Coffee and Delight Service – Herbal Tea
· Candlelit Dinner (Only on flights of 8 hours and over)
· Snack Bar Availability (Only on flights of 8 hours and over)
· Light Meal Service (Only on flights of 8 hours and over)
· Breakfast or 2nd Service (Only on flights of 8 hours and over)
· Special menu service for breakfast service (Only on flights of 8 hours and over)
· Lie Flat Seat Privilege (May Change According to Type of Aircraft)
· Sky illusion sleeping set (Only on flights of 8 hours and over)
· Noise Cancelling Headphones
· Free Wi-Fi Use for BC Passengers (On Aircrafts with Wi-Fi)
· Private Lavatory for BC Travelers
· Special Amenity Kits for Flights
· Wake-up Service (Only on flights of 8 hours and over)
· Slippers Service (Only on flights of 8 hours and over)
· Hot Towel Service
3- After Flight
After the flight, our BC passengers can take the advantage of the disembarking priority, by being transferred to the airport with a private bus via a private boarding bridge, provided that the aircraft stands in an available park position. Additionally, fast and privileged passport passes, priority baggage delivery, Arrival Lounge (Atatürk Airport) and Exclusive Drive services are the other exclusive offerings for these passengers.
Click here for detailed information.