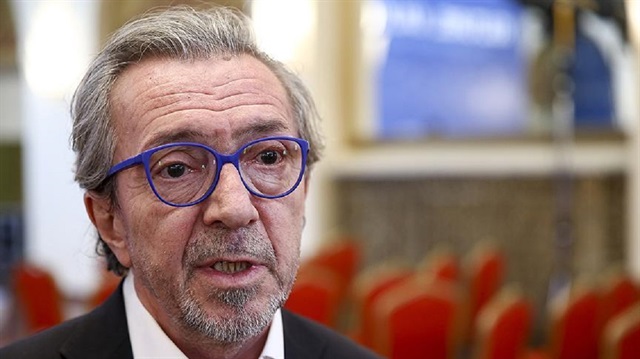 Turkish cinema should focus on gaining the international popularity of the country's TV shows, a leading director and producer has said.
Turkish TV soaps and dramas have a following of millions of viewers in the Middle East, South America and the Balkans.
Osman Sinav, who has been behind such overseas hit shows as Kurtlar Vadisi (Valley of the Wolves), said Turkey had a deep cinematic tradition that had largely failed to translate abroad.
"For us, every day and everything is about cinema," Sinav told Anadolu Agency.
"We have the world's most deep-rooted cinema culture and we need to carry it to the international scene."
Sinav, who received an honorary award at this week's International Antalya Film Festival, wrote Kurtlar Vadisi, which tells the story of a Turkish agent's efforts to infiltrate organized crime.
The series has proved a hit in countries as diverse as Chile and Bulgaria and had such an international following that Hollywood stars Andy Garcia and Sharon Stone featured in the final episodes.
However, Turkish movies have failed to replicate the success of Kurtlar Vadisi and shows such as Muhtesem Yuzyil (The Magnificent Century), Ezel and Fatmagul'un Sucu Ne? (What is Fatmagul's Fault?).
"In order to succeed in this, everybody [in cinema] should do his or her own part," Sinav said.
He sounded a note of optimism when considering Turkey's pool of talented young actors.
Invest in youth
According to Screen International, the Turkish TV industry's global growth has seen export revenues projected to hit $350 million a year by the end of 2017.
Two years ago, Turkish TV exports were worth $250 million, according to Yusuf Gursoy, president of the Radio and Television Broadcasters Vocational Union.
He told Anadolu Agency in an interview last month that the industry aimed to reach $1 billion by 2023.
In a bid to help the Turkish cinema catch up with its small-screen cousin, the government last year granted 30 million Turkish liras ($8.8 million) to 200 movie projects.
This year, it will give twice as much, according to the Turkish Film Producers' Professional Association.
Some Turkish language films have already broken through to an international audience, such as 2007's Yasamin Kiyisinda (The Edge of Heaven), which received Best Screenplay at Cannes.
Semih Kaplanoglu's Bal (Honey) was awarded a Golden Bear award at the 2010 Berlin Film Festival while Kis Uykusu (Winter Sleep) won the Palme d'Or in 2014.
"Film producers should make good movies," Palestinian director Elia Suleiman, a jury member at the Antalya festival, said. "If you make good movies, they will cross borders."
"The language of very good movies should not be only artistic but also political. If the language of movies is bad, they will fail in whatever they try to tell."
He added: "If we invest in young Turkish film producers and help them improve their movies, I believe they will achieve international success."
The 54th International Antalya Film Festival, runs until Oct. 27 and is showcasing more than 30 movies.