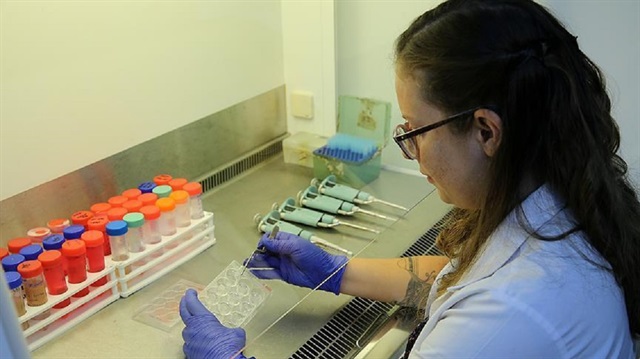 Turkish researchers have developed microchip technology which can diagnose cancer cells from body fluids such as saliva, blood, phlegm or urine.
Middle East Technical University (ODTU) Center of Excellence in Biomaterials and Tissue Engineering (BIOMATEN) director, Dr. Vasif Hasirci, and his student Dr. Menekse Ermis Sen, aim to sidestep traditional diagnosis systems, such as biopsies, raising cost-efficiency and decreasing diagnosis times.
Hasirci told Anadolu Agency the project's international patent application is soon to be finalized through ODTU Technopark.
He said the micropatterned technology developed on ecological surfaces initially displayed a cellular response to biological processes in cancerous and non-cancerous cells, allowing them to measure the changes.
They also began to research the reasons that triggered changes in the shape of cells and researched links between the shape, property and type of cells.
Hasirci said they primarily began research on a cancer investigation chip for osteoma -- bony, benign tumors -- but added they are now looking at breast cancer cells, comparing healthy tissues to different cancerous cells.
Their special micropattern technology system is soon to be tested on patients.
"Our goal is to inject body fluids into the chip system and do an automatized analysis … allowing pre-diagnosis on cancer.
"Following this procedure, we aim to transfer patients with a pre-diagnosis to hospital for a more detailed examination.
"In our method, no chemical is used; physical properties such as cells are imaged and calculated through our algorithms to determine whether [there are] cancerous cells or not," he said.
Hasirci added the method they have developed has a longer shelf-life than chemical methods.
Separately, Sen said the difference between healthy cells and cancerous cells could be determined through their spacing and size. "The principle of our system's application [means] expert opinion is not needed for the results."
She added that they have developed a new technology which will be the first of its kind worldwide and will revolutionize classical diagnosis methods.
Their work was published in Nature, an online multidisciplinary, open access journal, and also received the ODTU Prof. Dr. Mustafa N. Parlar Foundation Thesis of the Year Award in November 2016.