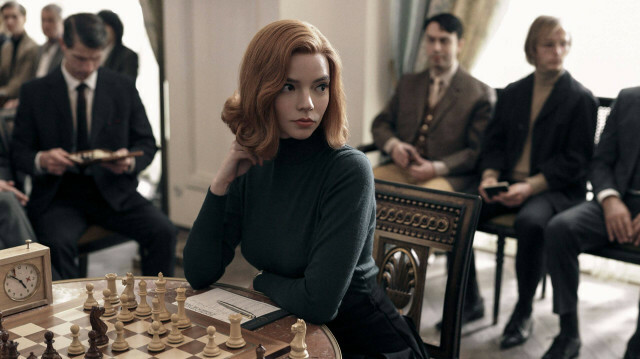 Photo courtesy of Netflix
American novelist and short story author Walter Tevis is the man who brought to life the popular novel The Queen's Gambit as a "gift to intelligent women," decades later inspiring a breakout TV miniseries hit.
Tevis was born on Feb. 28, 1928, in San Francisco, California, where he spent the first decade of his life.
At age 10, he was diagnosed with rheumatic heart disease and was placed in the Stanford Children's Patient Care Home, where he would stay for one year.
When he reached 11, he traveled across the country alone by train to his family, who had settled in Kentucky in the southeastern US, known as the Bluegrass State.
While attending Lexington High School, he formed a lifelong friendship with his classmate Toby Kavanaugh.
In a pivotal development for his future, he learned how to play billiards in the game room of the Rhoda Kavanaugh Mansion in Lawrenceburg, Kentucky, and was introduced to science fiction books at the local library.
Kavanaugh later owned a pool hall in Lexington, which would influence Tevis' work.
After being drafted by the military at 17, he served in the navy in Okinawa, Japan in the waning days of World War II.
After demobilization, he continued his undergraduate and graduate studies at the University of Kentucky, where he took lessons from Pulitzer Prize winner A. B. Guthrie – the novelist, screenwriter, historian, and author of such novels as The Big Sky and The Way West.
As his education continued, Tevis worked in his friend Toby's billiard room. His first billiard room story, The Big Hustle, was published in the popular Collier's magazine in 1955.
After graduation, he taught in small town high schools in various disciplines, from science and English to physical education. He also taught at Northern Kentucky University, the University of Kentucky, and Southern Connecticut State University.
He attended the famed Iowa Writers Workshop, where he earned his master's in creative writing in 1960.
-Short stories and novels
His first published science fiction story, The Ifth of Oofth, went to press in Galaxy Science Fiction in 1957.
He continued to publish short stories in mainstream popular magazines such as the Saturday Evening Post, Esquire, Redbook, Cosmopolitan, and Playboy.
His first novel, The Hustler, was published in 1959 by US publisher Harper amp; Row, now HarperCollins.
It was followed by The Man Who Fell to Earth in 1963.
For the next 14 years, he taught English literature and creative writing at Ohio University, where he produced few works.
In 1978, he moved to New York City, leaving his job to continue writing full-time.
The years since saw him add Mockingbird, The Steps of the Sun, The Queen's Gambit, and The Color of Money, as well as Far From Home, a short story collection, to his body of work.
The Man Who Fell to Earth was named best science fiction novel in 1963, and in 1980 Tevis' Mockingbird was nominated for the Nebula Award for Best Novel.
His most popular works have been translated into a score of languages, including Turkish, Italian, French, Spanish, Portuguese, Danish, Swedish, Greek, Hebrew, Japanese, and German.
- Books become movies, TV series
At least three of Tevis' six novels inspired high-profile movies, including The Hustler, a 1961 hit starring Paul Newman as pool shark "Fast Eddie" Felson, and its sequel the Color of Money with Tom Cruise (1984), and the Man Who Fell to Earth in 1976, starring musician David Bowie.
Decades later, the Queen's Gambit was adapted for the 2020 Netflix miniseries of the same name – and thanks to the show's success, is now perhaps his best-known work.
-Female genius in male-dominated world
The Queen's Gambit is a 1983 American novel by Tevis about the life of a female chess prodigy.
It traces Elizabeth (Beth) Harmon's childhood in an orphanage where she struggled with sedatives and alcohol addiction, to her triumphant rise to chess Grand Master, while also trying to survive and rise in a "man's world," in which women were not seen as fit to play with men.
Harmon was brought to life by Tevis for the novel, but the author said it was a "gift to intelligent women," including his daughter, Julie, and his aunt.
He said he loved Harmon for her courage and intelligence, adding that in the past many women had to hide their intelligence, but that is thankfully no longer true.
Tevis may not have achieved Beth's chess prowess, but "I played well enough to know what a good game is," he said in an interview.
"I can beat the average person, but I'm afraid of playing with guys who set up playboards" in New York parks, he added.
The Queen's Gambit miniseries made a huge splash on Netflix, racking up at least 62 million people in 28 days worldwide, making it the streaming service's most-watched miniseries ever.
The series' worldwide popularity also stoked renewed interest in the game of chess.
In 1963, he married Jamie Griggs, and the couple stayed together for more than 20 years before getting divorced.
A year after their marriage, she bore their son William Thomas and daughter Julia Ann.
He was a frequent smoker, gambler, and alcoholic, and his works often included these vices as central themes.
According to his son, he was "the anti-hero of all his own books."
Tevis was able to overcome his alcohol habit in the 1970s with the help of Alcoholics Anonymous.
In 1983, he married Eleanora Walker, later the trustee of the Walter Tevis Copyright Trust.
Tevis spent the last years of his life in New York before dying of lung cancer on Aug. 9, 1984, and was buried in Richmond, Kentucky.
2 years ago