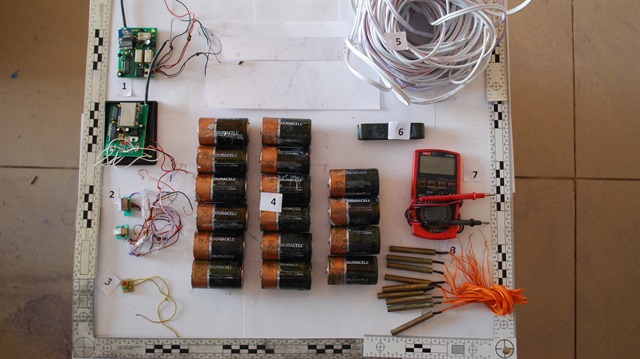 Turkish security forces captured 12 terrorists of the outlawed Kurdistan Workers Party (PKK), including three women, who were making preparations for a bomb attack in the Mediterranean coast city of Mersin.
Security sources said the operation was launched by the Mersin Police Department and the regional office of National Intelligence Agency (MİT) after getting information about the PKK members' activities in the district.
A large number of detonators, explosive devices and tons of explosive materials were also confiscated during the operation.
Police said that detainees came from rural areas of the southeastern provinces of Şırnak and Siirt.
They also had conducted surveillance work on Mersin Police Headquarters, Riot Police Branch Office, Regional Traffic Control Office, Provincial Gendarmerie Command and most popular streets and squares in the city, according to security sources.
Security forces have intensified counterterrorism operations in recent months after the PKK terrorist group violated a truce deal in July 2015.
Since then, more than 8,000 PKK members have been killed and hundreds more were injured.
The PKK, listed as a terrorist organization in Turkey, the European Union and the United States, has been conducting armed violence in the southeastern part of Turkey since 1984.
More than 40,000 people, mostly civilians, were killed in the three-decade conflict.