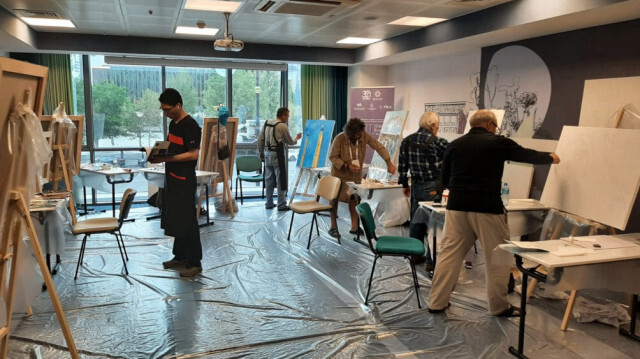 23rd TÜRKSOY painters gathering: A celebration of art and culture in Azerbaijan
With the generous support of the Turkish Cooperation and Coordination Agency (TİKA), the 23rd TÜRKSOY Painters Gathering was held in the historic city of Shusha, Azerbaijan. This remarkable event was not only a celebration of art but also a reflection of the rich cultural heritage of Shusha, which has been designated as the 2023 Turkish World Culture Capital.
Running from September 10th to September 20th, 2023, the event brought together talented artists from fraternal countries, including Azerbaijan, Kazakhstan, Uzbekistan, Kyrgyzstan, Turkmenistan, and Türkiye.
The primary goal of the TÜRKSOY Painters Gathering is to foster the development of fine arts within the Turkish world. It provides a platform for artists of different generations to share their experiences and showcase their unique perspectives on canvas. Additionally, it offers an opportunity to introduce Shusha's cultural treasures to the world.
Throughout the event, artists used their brushes to capture the richness of Shusha from their own viewpoints and emotions, allowing their brushstrokes to leave an indelible mark on the universe of art. Each stroke revealed the authenticity and depth of Shusha's cultural heritage.
Furthermore, the artworks created by Turkish painters during the 23rd TÜRKSOY Painters Gathering will be featured in a new exhibition in Shusha. This exhibition, organized under the auspices of the TÜRKSOY Permanent Council, will take place on October 13th and 14th, giving art enthusiasts the chance to appreciate and celebrate the creative spirit that transcends borders.
The 23rd TÜRKSOY Painters Gathering not only highlights the significance of artistic expression but also serves as a testament to the enduring cultural connections between Türkiye and its fraternal countries. This artistic celebration in Shusha will undoubtedly continue to strengthen the bonds of friendship and collaboration among the Turkish-speaking world.
قبل٪ s