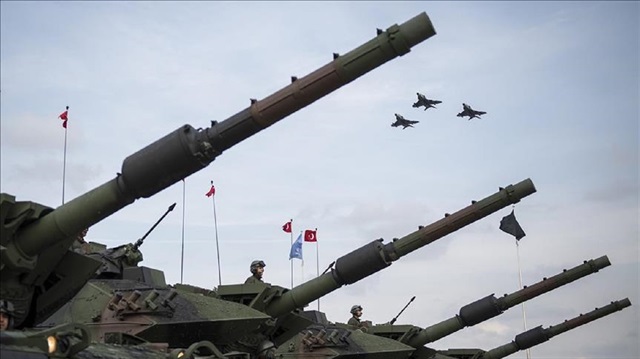 A second group of Turkish troops arrived in Qatar on Thursday, joining a first group that arrived earlier this week to begin training exercises with their Qatari counterparts, Qatar's official QNA news agency reported.
In a statement carried by QNA, Qatar's Defense Ministry announced the arrival of the second group of Turkish troops to the Al-Udeid Airbase -- located southeast of Qatari capital Doha -- on Thursday morning.
The first group of Turkish troops arrived in Qatar on Sunday, after which they conducted a first round of military exercises -- including a parade of combat tanks -- at Qatar's Tariq bin Ziyad military camp.
The joint exercises came only days after Turkey's parliament ratified two military cooperation agreements allowing the deployment of troops to Qatar to train the country's gendarmerie forces.
The agreements are intended to improve the defense capabilities of Qatar's armed forces, support the country's efforts to combat terrorism, and contribute to regional and global security.
The latest Turkish troop deployments come against the backdrop of a weeks-long embargo imposed on Qatar by a handful of other Arab states.
On June 5, five Arab countries -- Saudi Arabia, Egypt, the United Arab Emirates, Bahrain and Yemen -- abruptly cut diplomatic ties with Qatar, accusing it of supporting terrorism.
Mauritania followed suit shortly afterward, while Jordan downgraded its diplomatic representation in Doha.
Saudi Arabia has also closed its land border with Qatar, geographically isolating the tiny Gulf state.
Doha, for its part, strenuously denies accusations that it supports terrorism, describing the attempts to isolate it as "unjustified".
Turkey, meanwhile, a longtime ally of Qatar, has since rushed to the aid of Doha, dispatching vast amounts of humanitarian aid -- in addition to troops -- to the beleaguered country.
6 years ago