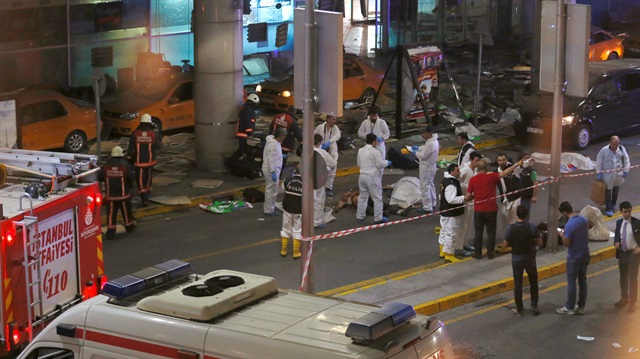 At least 43 people were killed and 239 others injured after suicide bombings and gunfire rocked Istanbul's international Ataturk airport late Tuesday.

The reports, citing the Justice Ministry's statement, said that three assailants opened fire on police and civilians near an entry point to the international terminal and blew themselves up after police fired on them.

Istanbul governor Vasip Şahin said bombers struck different points of the airport. Reports said one of the assailants detonated himself at the arrival terminal while the other one detonated himself at the departure terminal. The third bomber blew himself up at the entrance of VIP hall.

Around 50 ambulances rushed to scene within 5 minutes after the incident. A number of fire trucks were also sent to the scene.

Security was stepped up in and around the airport. Bomb disposal units and special operations forces were sent to the scene to prevent any further unrest.

Flights from and to Ataturk airport, suspended due to security concerns, were due to resume at 8 am on Wednesday in a coordinated way, officials said.

A crisis desk was immediately set up at the interior minister's office. Prime Minister Binali Yıldırım was briefed by Interior Minister Efkan Ala. He left for Istanbul with key government officials to assess investigation at the airport. In Istanbul, the PM said early signs suggested Daesh terrorist organization was behind the assault. He also said the casualties included foreigners but gave no further details.

An initial report claimed terrorists prepared for the attack at the international flights area after travelling to Istanbul from abroad by plane but did not tell which country they left from. It is still unknow how they brought explosives and Kalashnikovs to the airport.

Only minutes after the explosions, four assailants were said to have left the airport with their guns. Special operation forces reportedly seized them at a point, called Havuzlu intersection, a few kilometers from the airport.

Istanbul, a major tourism hub which is home to around 20 million people, has been struck by a string of bomb attacks in recent months including a suicide bombing in Istanbul's main shopping street.

Since mid-January, Turkey's border towns and provinces close to the border with Syria have been targeted by Daesh rockets attacks, most significantly Kilis. A total of 21 people, including Syrians sheltering in Turkey, have been killed and more than 70 others wounded in these attacks. Turkish howitzer fire and nine coalition neutralized dozens of Daesh terrorists as they were preparing to strike Turkey with Katyusha rockets and mortars from northern Syria.

Daesh drew the world's attention two years ago, when it captured large swathes of territory in Iraq and Syria. In June 2014, the extremist group formally declared the establishment of a caliphate. In February 2015, US officials warned that Daesh had gained a significant power which enabled it to muster somewhere in the range between 20,000 or 30,000 troops in Iraq or Syria.

Intelligence officials warned that Daesh was training at least 500 terrorists in the conflict zones in order to carry out a string of 9/11-type attacks. Most of Daesh terrorists reportedly travelled to Italy via Libya in September and October in 2015.

Ankara has meanwhile conducted a sweeping operation against the outlawed Kurdistan Workers' Party (PKK) following the collapse of a ceasefire. Since then, hundreds of members of the Turkish security forces have since been slain in PKK attacks.