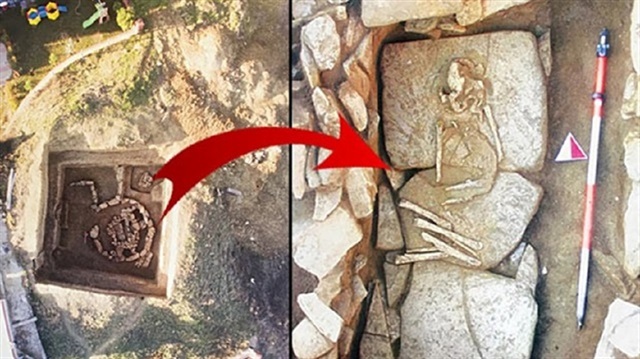 A 5,000-year-old eairn-type grave, which may be that of a warrior, has been discovered in the Silivri district of the Turkish province of Istanbul.
The excavation took place in the Çanta region of Silivri through the efforts of the Istanbul Archaeology Museum.
The report of the excavation revealed that the finding is the oldest eairn-type grave ever found in Turkey extracted completely by digging.
The researchers say that a spearhead that was found near the skeletal remains show that the man was a warrior.
The eairn-type grave is known to be associated with Turkish-Altay culture.
The grave was found and excavated through five months of effort, after several other failed attempts to extract it.
Previously in 1980, archaeologists found another eairn-type grave in Western Thrace during an excavation in Asılbeyli town of the northwestern Turkish province of Kırklareli.
The grave found in 1980 was the only known eairn-type grave discovered until the Silivri excavation.
The finding will be brought to the Istanbul Archaeology Museum and the excavation site will be registered.
8 yıl önce