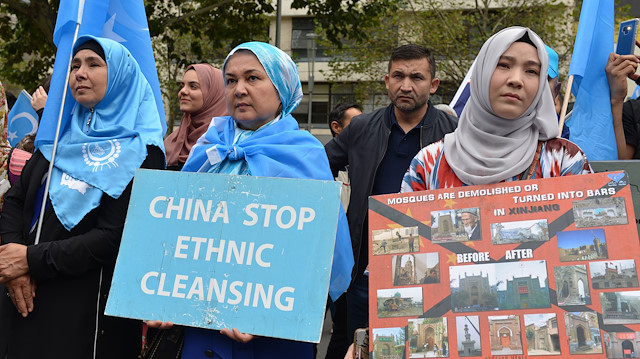 An exiled Uyghur activist on Friday asked leaders of G20 countries to speak against China's ongoing persecution on its ethnic Uyghur minority, Kyodo news reported.
Addressing a press conference in Japanese city of Osaka, Rabiya Kadeer, a prominent Uyghur human rights activist, said while many people are being killed across the globe, there is no ethnic group as oppressed as Uyghur.
The city of Osaka is currently hosting G20 summit.
"Many people are killed across the globe, but there is no ethnic group that has been oppressed and slaughtered like the Uyghur," she said.
Japan approved Kadeer's visa, rejecting Beijing's objection, Kyodo said, citing a government source, who spoke on the condition of anonymity.
Chinese President Xi Jinping is also attending the summit.
The government source further told Kyodo that Kadeer has travelled to Japan more than 10 times and there was no legal excuse to deny her visa.
Beijing has been criticized by international community for its oppressive policies against its Turkic Muslim minorities in Xinjiang -- an autonomous territory in northwest China. The territory with large swath of mountains and deserts is described as East Turkistan by Uyghur.
She also backed ongoing demonstrations in Hong Kong, against an extradition legislation that enables transfer of political prisoners, from the city to mainland China.
The pro-democracy activists have called Hong Kong government to completely abolish its now-suspended extradition bill, which may increase influence of China's communist regime in the former British colony.
Japan has not played adequate role in improving human rights situation in China, Kyodo quoted Kadeer, who, however, appreciated Premier Shinzo Abe for mentioning Uyghur and Hong Kong issues, during his meeting with President Xi earlier.
"It is globally very significant (for Abe) to have raised the issue, at the important meeting," she said. "I hope the Uyghur issue will be definitely discussed tomorrow," she added.
The Prime Minister Abe, the chair of this year G20 summit, expressed his support for an "open and free" Hong Kong under the "one country, two system" policy. He asked Xi to take measure to protect human rights of ethnic minorities such as Uyghur and stressed the importance of respecting common values of the international community, a senior Japanese government official told Kyodo.
Uyghur, a Turkic ethnic group that make up 45% of the population of Xinjiang, accuses China of carrying out repressive policies that restrain their religious, commercial and cultural activities.