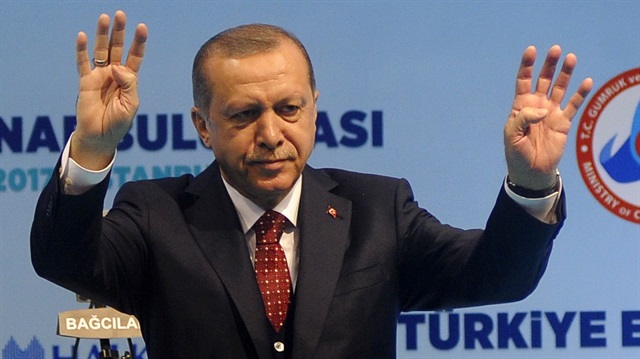 Their masks fallen, the actors who use terrorist organizations as tools have put themselves out into the open, Turkey's president said Sunday.

"Recent events in Europe show that the struggle against our country and our cause has entered a new phase," Recep Tayyip Erdoğan said in Istanbul, speaking to the Knowledge Dissemination Foundation (Ilim Yayma Vakfı) and Turkish tradesmen.

Erdoğan spoke amid disputes with European countries over their refusal to allow Turkish government ministers to hold public rallies ahead of Turkey's April 16 referendum. One of those countries, Germany, added fuel to the fire Saturday by allowing marches by the terrorist PKK, Turkish officials have charged.

Erdoğan argued, "Those who have been trying to pressure us using their tools, the terrorist groups they armed and patted on the back, and the agents they bought for a dollar, have put themselves out in the open.

"The masked ball is over."

On those who urge Turkey "to speak softly but carry a big stick," Erdoğan said "those days are over.

"We won't allow even a single one of our citizens to suffer any harm. Any country that tries to do so will face the consequences."

The PKK is listed as a terrorist organization in Turkey, the U.S., and the EU. In its over three-decade terror campaign against Turkey, more than 40,000 people have been killed.

Since the group resumed its armed campaign in July 2015, more than 1,200 people, including security force personnel and civilians, have lost their lives.


- Retaliation for newspaper ban

Erdoğan also vowed to retaliate over a Dutch member of the European Parliament reportedly seeking a ban of Daily Sabah, an English-language Turkish newspaper, on the EP floor.

"If they do not allow our national newspaper there now, then you will see retaliation in Turkey," Erdoğan said.

Daily Sabah reported Sunday that Dutch daily De Telegraaf accused it of spreading hate, citing an article published in Sabah, its Turkish-language sister paper, exposing the Fetullah Terror Group's (FETÖ) structure in the Netherlands.

Daily Sabah also reported that Dutch MEP Christian Democrat Jeroen Lenaers asked European Parliament head Antonio Tajani to investigate who brought copies of Daily Sabah to the European Parliament as well as ban the paper inside parliament.

Led by U.S.-based Fetullah Gülen, FETÖ terrorist group is accused of orchestrating the July 15 coup plot, which martyred 249 people and left some 2,200 injured. It is also accused of a running long-running campaign to overthrow the state through the infiltration of Turkish institutions, particularly the military, police, and the judiciary.