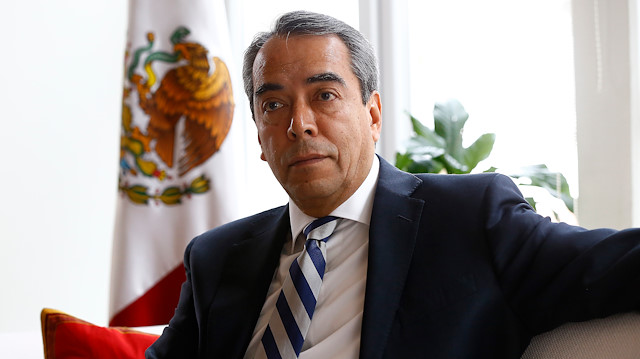 Mexico's ambassador to Turkey Bernardo Cordova
Turkey and Mexico are both ancient cradles of civilization and enjoy very positive relations, Mexico's ambassador to Turkey said on Tuesday.
In an exclusive interview with Anadolu Agency, Bernardo Cordova said the two countries have "wonderful" relations, adding that diplomatic relations between the countries were established over 90 years ago.
"Both countries have new governments, which represents a new opportunity to strengthen the relationship," he said, referring to the general elections held last year both in Turkey and Mexico.
Saying that Mexico hopes to boost political dialogue and cooperation with Turkey, Cordova added the countries have a clear road ahead to promote the partnership.
"We have two big, modern, and open economies," Cordova said, adding that Mexico is working to organize more visits by business delegations between the two countries.
Cordova underlined that Turkey and Mexico cooperate through the Mexican Agency for International Development Cooperation (AMEXCID) and the Turkish Cooperation and Coordination Agency (TIKA), Turkey's state-run development aid agency.
"The opening of the TIKA office in Mexico in 2016 was great news, and Mexico is aware of Turkish humanitarian and entrepreneurial policy."
He also hailed the role of national flag carrier Turkish Airlines in boosting tourism and the commercial ties between the countries as a "very important step," highlighting Turkish cargo, Turkish Airlines' freight division.
"The fact that Turkish Cargo started direct flights to Mexico in October last year and the beginning of direct passenger flights in August will have an impact and facilitate faster and more direct contact," he said.
Founded in 1933, Turkish Airlines flies to more than 300 destinations in over 120 countries with its fleet of more than 330 aircraft, including passenger and cargo planes.
The ambassador also told how Mexico was selected by the Mexico, Indonesia, South Korea, Turkey, and Australia (MIKTA) group members as the chairing country for 2019.
MIKTA's 14th foreign ministerial meeting was held in Yogyakarta, Indonesia this February.
"The informal consultation mechanism congregates five large, modern economies in the world," he said.
Stressing that Mexico was the first country to coordinate MIKTA's activities in 2013-2014, Cordova said his country's agenda this year seeks to directly address the public's needs and aspirations.
Established in 2013 on the sidelines of the UN General Assembly, MIKTA aims to support effective global governance.
Cordova said Mexico hopes to increase MIKTA's collaboration through social development, global governance, and sustainable future principles.
With economic cooperation and social development, Mexico seeks to promote trade and investment, as well as foster a greater interaction of macro and small- and medium-sized enterprises into global supply chains, he said.
The ambassador also stressed that while chairing the MIKTA informal partnership, Mexico aims to join efforts to boost efficiency, transparency, and equality in international organizations, as well as mainstream gender equality and promote sustainable development.
"MIKTA can be a positive actor in the search for common solutions to global problems," Cordova said.
5 years ago