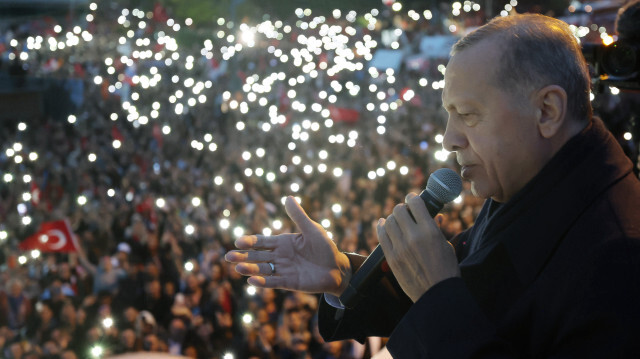 President Recep Tayyip Erdogan
Türkiye's 85 million-strong citizens are the winners in the national elections that concluded today, President Recep Tayyip Erdogan said on Sunday, confident in his clear lead towards reelection.
"All 85 million of our citizens are the winners of both the May 14 and May 28 elections," Erdogan said in an address to the nation from Istanbul.
"We said 'We will win in a way that no one will lose.' So the only winner today is Türkiye," he stressed.
Erdogan is currently leading in the presidential runoff with 53.41% of the vote, while opposition candidate Kemal Kilicdaroglu has 46.59%, with 75.42% of the votes counted, according to Ahmet Yener, chairman of the Supreme Election Council (YSK).
On May 14, no candidate won the required 50% in the first round, triggering the presidential runoff, although Erdogan took the lead with 49.52%.​​​​​​ Erdogan's electoral alliance also won a majority in parliament on May 14.
"We have completed the second-round presidential election with the favor of our nation," Erdogan said, expressing his gratitude to the people of Türkiye.
"I would like to thank each and every member of our nation who once again conveyed to us the responsibility for governing the country for the next five years," he added.
4 months ago