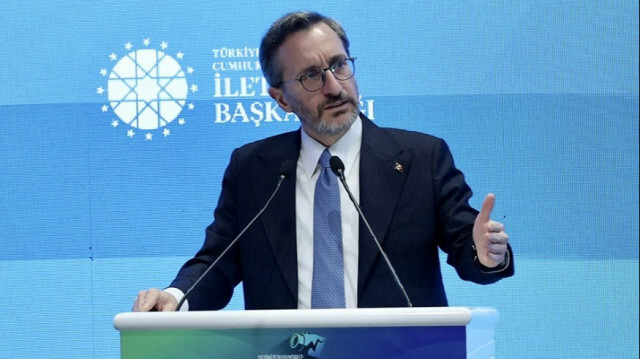 Türkiye's Communications Director Fahrettin Altun
Türkiye's Communications Director Fahrettin Altun on Friday slammed a US senator for "one-sided" claims on Türkiye's policies.
"It is sad to see U.S. Congress members and Administration officials perpetuate one-sided views of Türkiye's policies. Skewed and deeply flawed descriptions of our government's policies and approaches have, unfortunately, become a staple of U.S. Congressional hearings," Altun said on Twitter.
Altun's remarks came after US Senator and Chairman of the Senate Foreign Relations Committee Bob Menendez claimed that Türkiye does not "deserve" to acquire fighter jets from the US, citing many reasons, including ties with Greece, NATO enlargement, and human rights.
"Let us set the record straight, @SenatorMenendez. Türkiye does not violate other countries' territorial waters or air space. Some of our neighbors have engaged in this type of behavior and we have always responded appropriately. We will not allow violation of our sovereignty.
"Türkiye never engages in violation of other countries' sovereignty including drilling in their exclusive economic zones, as you claim, @SenatorMenendez. The long running Cyprus issue, the resolution of which has been made nearly impossible by the EU, is the culprit here," Altun said.
Strongly rejecting Menendez's claims, Altun said: "We are not occupiers in Cyprus as you claim but we have been protecting Turkish Cypriots. The reason this issue has been ongoing for so long is the EU's shortsightedness in admitting Cyprus as a member despite its disputed borders."
Regarding Türkiye's F-16 request, Altun said Ankara has sought to procure weapons systems from NATO allies, including the US, consistently, adding: "We have turned to other suppliers only when the U.S. Congressional committees, often under your leadership @SenatorMenendez, have made it incredibly difficult."
Türkiye, a fellow long-standing NATO member, requested in October 2021 to purchase 40 F-16 fighter jets, as well as modernization kits for its existing planes.
The Biden administration informally notified Congress of its approval of the sale in January but key lawmakers at Capitol Hill have vowed to nix the deal over several demands, including making the purchase contingent on Ankara's approval of Finland's and Sweden's NATO membership bids.
Ankara maintains that the jets would strengthen not only Türkiye but NATO.
Stressing that Türkiye has not blocked the enlargement of NATO, Altun said: "If anything, we have been strong backers of NATO enlargement by supporting Georgia and Ukraine's memberships in the past.
"We have sought to protect our common security by asking Finland and Sweden to fight terrorism. Turkish Parliament just approved Finland's membership and Sweden can get there soon by tightening their anti-terror laws."
About not joining EU sanctions against Russia, Altun said it is not a violation of any international agreements, of which Türkiye is a signatory.
"You may have forgotten that Türkiye is not an EU member. Also, we have given humanitarian support to Ukraine more than many EU countries," he added.
Regarding Türkiye's airstrikes in northern Syria and Iraq to protect its borders and citizens from the terror threat, Altun said: "You are right about Türkiye conducting air strikes against YPG/PKK, as you call them "U.S. partners," in Iraq and Syria.
"U.S. has been supporting a terror group that has been fighting the Turkish state for more than 40 years. We will not relent in our fight against them."
In its more than 35-year terror campaign against Türkiye, the PKK -- listed as a terrorist organization by Türkiye, the US, and EU -- has been responsible for the deaths of over 40,000 people, including women, children, and infants. The YPG is its Syrian branch.
About senator's claims on human rights issues, Altun said the government has made the "biggest" progress in giving religious minorities their rights and freedoms, adding: "If anyone has any doubts about this, they can simply go and ask the Christian and other minorities living in Türkiye."
Altun also said Menendez's charge about jailing lawyers and journalists as well as political opponents before elections is "unfounded and misleading," stressing: "These people are indicted for crimes (such as terrorism) unrelated to their profession."
About the legal cases against some local personnel employed by the US diplomatic missions in Türkiye, he said it "has to do with pursuing the culprits of a treacherous coup attempt in our country, whoever they might be."
He also reminded that restoring Ayasofya's status as a mosque is Türkiye's national sovereign decision.
"We are disappointed and honestly tired of hearing many of these misrepresentations and false claims about our country, @SenatorMenendez and (US Secretary of State Antony Blinken) @SecBlinken. We find that the U.S. is the difficult ally in several of its regional and NATO relationships including that of ours.
"We call on U.S. politicians and leaders to drop their preconceived notions about our country and adopt a fair and realistic assessment of the outstanding issues. Despite the flawed perceptions common in Washington, we are always ready for cooperation on issues of mutual interest," Altun said.
2 months ago