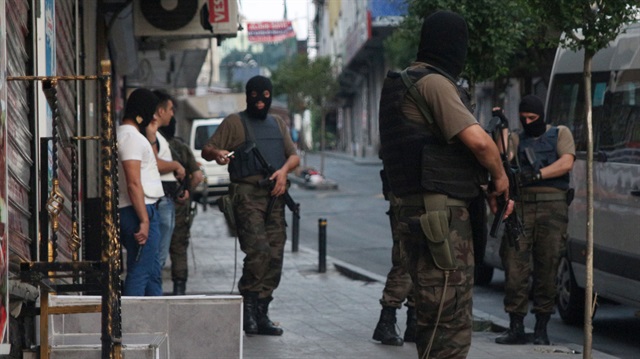 Turkish police detained at least 297 suspects in counter terrorism operations across the country against the Islamic State of Iraq and Syria, or ISIL, the Kurdistan Workers Party, or PKK, and the Revolutionary People's Liberation Party-Front, or DHPK-C, according to a prime ministry statement on Friday.
"Simultaneously operations have been carried out in 13 provinces against a large number of people, considered to be preparing for operations against civilians and Turkey's security forces. A total of 297 persons belonging to terrorist organizations have been detained so far," the statement read.
Thousands of police have launched simultaneous operations in the early hours of Friday in 13 provinces including Istanbul, Ankara, Izmir, and Bursa.
During a shootout with police at the operation in Istanbul, which spread to at least 26 districts of the city, one woman, reportedly a member of the outlawed far-left Revolutionary People's Liberation Party-Front, or DHKP-C, was killed.
At least 98 suspects, including 36 foreigners, were detained in Istanbul while 35 from Şanlıurfa, 9 from Ankara, 18 from Izmir, and 10 people from Bursa were also arrested for allegedly being linked with ISIL, PKK, and DHKP-C terror organizations.
During the same hours, Turkish fighter jets struck three ISIL positions inside Syria, the prime minister office also announced.
#
police operation across Turkey
8 years ago